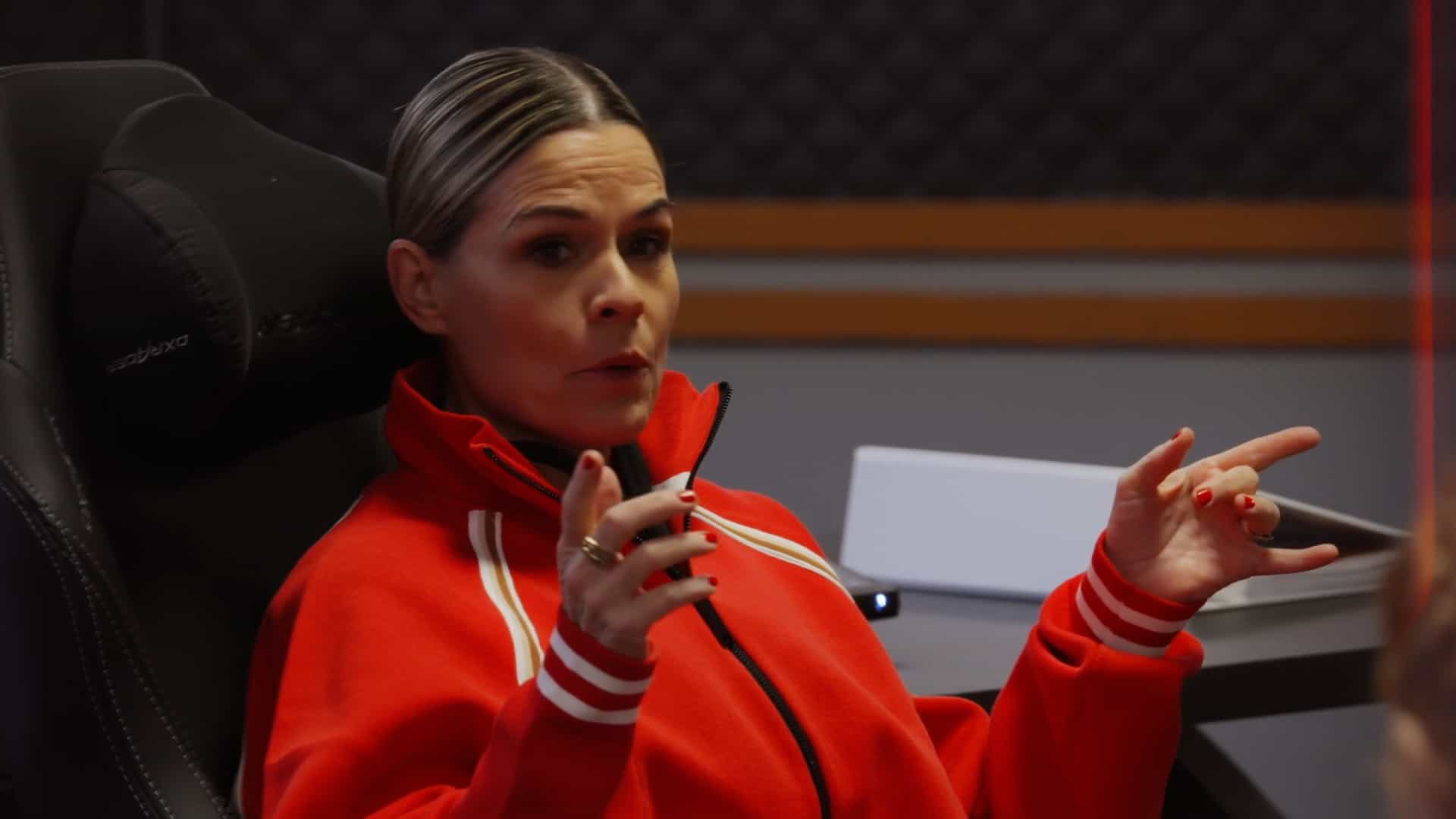 This week's episode of "Stars on Mars" was all about the feud between Cat Cora and Andy Richter. Check out our power rankings to see where our celebronauts stand after a highly political Episode Eight, and be sure to leave us a comment if you disagree with our rankings!
---
Past power rankings:
Week 1 | Week 2 | Week 3 | Week 4 | Week 5 | Week 6 | Week 7
---
1. Tinashe
Last week: 1 ↔
Another relatively quiet episode from Tinashe just reinforces the fact that she has virtually no enemies in the hab.
2. Cat Cora
Last week: 9 ↑
Cat seized the role of base commander in Episode Eight and used it to exact punishment upon her nemesis, Andy Richter. Unlike other base commanders, Cat went for the jugular and booted Andy immediately. It was a bold strategy, but it doesn't seem to have damaged her reputation too much. Perhaps the other contestants have been too cautious. Cat is in a strong position entering Episode Nine, but it's worth noting that no base commander has yet served two consecutive terms. This means that Cat could be pretty exposed in the next challenge or two unless she finds a way to secure the role of mission commander.
3. Lance Armstrong
Last week: 8 ↑
Lance played the game well in Episode Eight. He befriended Cat Cora, helped her get elected base commander, and easily outmaneuvered Ariel to secure the coveted "mission specialist" role, which made him safe from elimination. His only mistake may have been allowing Adam Rippon to escape elimination; Adam remains Lance's most dangerous enemy. Of course, dissuading Base Commander Cat Cora from eliminating her own nemesis, Andy Richter, may have been too much to ask of Lance.
4. Adam Rippon
Last week: 4 ↔
Adam performed well in this episode, but his faction will be in serious trouble if Cat continues to align herself with Lance. With Andy Richter gone, Cat teaming up with Lance's crew would give them a strong majority. That said, it's not clear that Cat's loyalties are settled. The jock caucus showed signs of discord near the end of the episode when Marshawn criticized Lance's work as mission specialist.
5. Porsha Williams Guobadia
Last week: 2 ↓
Porsha finally set her sights on the base commander role in Episode Eight, only to lose the election to relative newcomer Cat Cora. It was a surprisingly poor play from Porsha, who threw her hat into the ring despite the fact that Cat already had the endorsement of both of the hab's two major dueling factions. Porsha never had a chance.
6. Paul Pierce
Last week: 5 ↓
Paul ended up in the bottom three in this week's episode, but that was no great shame after a challenge with few distinguished performances. He'll enter the ninth episode in a reasonably strong position.
7. Marshawn Lynch
Last week: 7 ↔
Marshawn appeared annoyed with Lance after the elimination challenge, but it's not clear if we should read much into that, given Marshawn's mercurial and hyper-competitive nature. Marshawn would be wise to stand by his alliance with Lance at this point, since it seems that Cat Cora may be open to joining up and giving the old jock caucus four votes out of eight remaining.
8. Ariel Winter
Last week: 6 ↓
Ariel once again attempted to maneuver herself into a protected role, only to be shut out by her archnemesis, Lance. Ariel clearly misread Cat Cora's alliances, and the departure of a relatively pro-Ariel contestant further weakens her position.
---
Eliminated: Andy Richter (Episode 8)
Last week: 3
Andy made an enemy in Episode Seven when, as base commander, he put Cat Cora in his bottom three. In the very next episode, Cat ascended to the base commander role and set about making Andy's life miserable before sending him packing at the end of the episode.
Eliminated: Ronda Rousey (Episode 7)
Last week: N/A
Despite having a very strong position as the best-liked member of the still-powerful jock clique, Ronda volunteered to go home in Episode 7. It was the most disruptive self-ejection yet.
Eliminated: Ashley Iaconetti (Episode 6)
Last week: N/A
Ashley Iaconetti arrived in Episode 5 and was promptly ushered out in Episode 6. Not much happened with her in between.
Eliminated: Tom Schwartz (Episode 4)
Last week: N/A
Tom was one of two people kicked out of the hab in Episode Four's surprise double-elimination (the other was Natasha Leggero). Tom's ejection seemed to have more to do with accumulation of bottom-three performances than it did with any specific mistakes he made in his final episode.
Eliminated: Natasha Leggero (Episode 4)
Last week: N/A
Like Richard Sherman the week before, Natasha actually requested to be sent home. The difference in her case was that she was absolutely getting booted off regardless.
Eliminated: Richard Sherman (Episode 3)
Last week: N/A
In easily the most shocking moment of the show so far, Richard Sherman effectively quit during the elimination phase of Episode Three. Technically in the bottom three but in no real danger of elimination, thanks to Marshawn's antics and Natasha's incompetence, Sherman declined to mount a defense. Instead he gave a short speech volunteering to be sent home. Base commander Tinashe obliged.
Eliminated: Tallulah Willis (Episode 2)
Last week: N/A
Tallulah managed to win the base commander job in Episode Two, only to meet with failure in the emergency challenge. The team's flop made Tallulah eligible for elimination, and mission specialist Natasha Leggero sent Willis packing.
Eliminated: Christopher Mintz-Plasse (Episode 1)
Last week: N/A
Poor McLovin was booted in the series premiere. Things move fast on Mars, and Mintz-Plasse just couldn't get out of the gate cleanly.