Philo vs Netflix
Last updated: January 24, 2023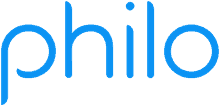 Starts at $25.00/mo
vs

Starts at $6.99/mo
Netflix is a streaming video service. Philo is a skinny bundle streaming TV provider that lets you watch live television on familiar channels. Both have their upsides and downsides. Both — when compared to renting thousands of movies a month or paying for a full-on cable TV service — are relatively affordable.
But which service is going to be the best fit for you? And which is worth paying your hard-earned money for? That's the question we're going to answer today, as we take a deeper look at what Netflix and Philo bring to the table.
Netflix: A huge library of on-demand content for a monthly fee
Pros
Huge library of content
Plenty of subscription options
Original programming
Cons
No live TV
No current-season episodes of licensed shows
Licensed movies take a while to reach Netflix
Philo: Live TV on the cheap, but no sports, news, or locals
Pros
Live TV
Has popular and familiar channels like AMC
Cheap subscription price for a skinny bundle TV service
Cloud DVR included
Cons
Advertisements
No sports channels
No news channels
No local channels
What You Can Watch on Netflix vs. Philo
Let's get one thing straight: Netflix is a juggernaut. The service offers tens of thousands of movies and TV shows to subscribers. You probably couldn't watch everything on Netflix if you tried, and there's a little something for everyone, whether you enjoy blockbuster action movies or documentaries about dieting.
Netflix also has original programming, and some of it is pretty darn good. If you've heard people raving about "The Witcher," or you recall people falling head over heels in love with "Jessica Jones" a few years back, both are exclusive to Netflix, and both are worth factoring in when you're making your decision.
Philo, on the other hand, does something pretty different. Imagine if you took a cable TV service, stripped out all of the local channels and sports networks, and offered the rest at about a fifth of the price. That is Philo in a nutshell. At press time, it bundles 61 live channels — mostly focused on entertainment — and enables you to stream them through a web browser, on your phone or tablet, or a streaming device like a Roku or Apple TV.
Philo is for you if you simply can't live without live TV. If you're someone who wants to stay current with "Doctor Who" on BBC America, or you're a sucker for whatever murder show is airing on Investigation Discovery (ID), Philo has you covered. Philo may not be all that great for movies; cable channels do typically have advertisements, after all. But for watching TV shows at the moment they air, Philo will get the job done.
How Much You Will Spend on Netflix vs. Philo
Netflix has a few subscription options. For $9.99 per month, you can stream in standard definition on one device at a time. For $15.49 per month, you can stream in high definition on up to two devices at once. And for $19.99 per month, you can stream in 4K on up to four devices at the same time, which is perfect for families.
Philo, on the other hand, makes its pricing fairly simple. Though you can find the occasional Philo discount deal — and you'll always have a crack at the Philo free trial — Philo's main appeal is its everyday low pricing. There is one $25-per-month plan that includes all 61 channels and enables you to stream on three devices at once. Philo offers some add-on premium channels if you'd like to extend your lineup slightly: three Epix channels and three Starz channels. That'll get you some additional movie coverage, but Philo is live TV and has a limited on-demand library. For the most part, it's best used to watch things as they air.
If you're a big fan of sports, news, or local networks, then Philo's channel lineup will leave quite a bit to be desired. Paying $25 a month for channels such as AMC, Nickelodeon, and TLC is a great deal, but the reason Philo can keep its prices so low is that it cuts out the most expensive channels to carry: sports and news channels and local networks.
With Netflix, there's one thing you won't be watching: commercials. If you're watching a TV series, the service is almost a little too eager to start the next episode when the previous one ends. If you just want to sit down and enjoy a night of entertainment without seeing a prescription drug ad or a spot for MyPillow, Netflix will be your safe haven.
Philo, unfortunately, shows ads. It's a skinny bundle service for live TV, so TV channels that typically show ads will still show them on Philo. If you accept that going in, then it may not be as big of a deal. If you thought Philo may somehow have the content of cable TV without the advertisements, then you will be sorely disappointed.
Netflix vs. Philo: Which Should You Choose?
Due to the sheer size of its library, Netflix is tough to beat. Thousands of movies and TV shows are ready and waiting to be streamed, and Netflix's original programming is mostly pretty good. New content is constantly brought into the fold, ensuring you always have something new to watch regardless of what you're into.
That's not to say a Philo subscription isn't without its perks. Cable TV channels have some pretty phenomenal programs too. Being able to watch live means you won't have to fear spoilers before you catch up at a later date. And you get live television on whatever device you prefer for just $25. That's great! 
Of course, Philo is also missing those sports, news, and local networks — and that could be a deal-breaker for some. (If you have to have live sports, compare Philo to competitors such as fuboTV and Sling TV.)
When the choice comes down to Netflix, which can cost as little as $9.99 a month, and Philo, which is $25, Netflix will provide the most value. You'll get an enormous library of critically acclaimed content, you won't have to sit through advertisements, and the price at every single tier is lower than Philo's standard offering.
Budget isn't everything, though, and Philo has the one thing Netflix doesn't: live TV. If you must have live TV, Philo (or a competitor) is your best bet. Otherwise, we recommend Netflix.