Mediacom isn't a big name outside their relatively small service area, but their speed and reliability is just as good as big names like Comcast and Spectrum, if not better.
Their offerings include some add-ons that tip the scales. Especially for those of us considering a DSL alternative, their bundled plans are hard to argue with.
We've combed the Internet for the best deals on Mediacom plans, and talked to company representatives to figure out exactly why they're worth considering.
Top Mediacom Cable Deals
Internet 60 — Best Internet-Only Deal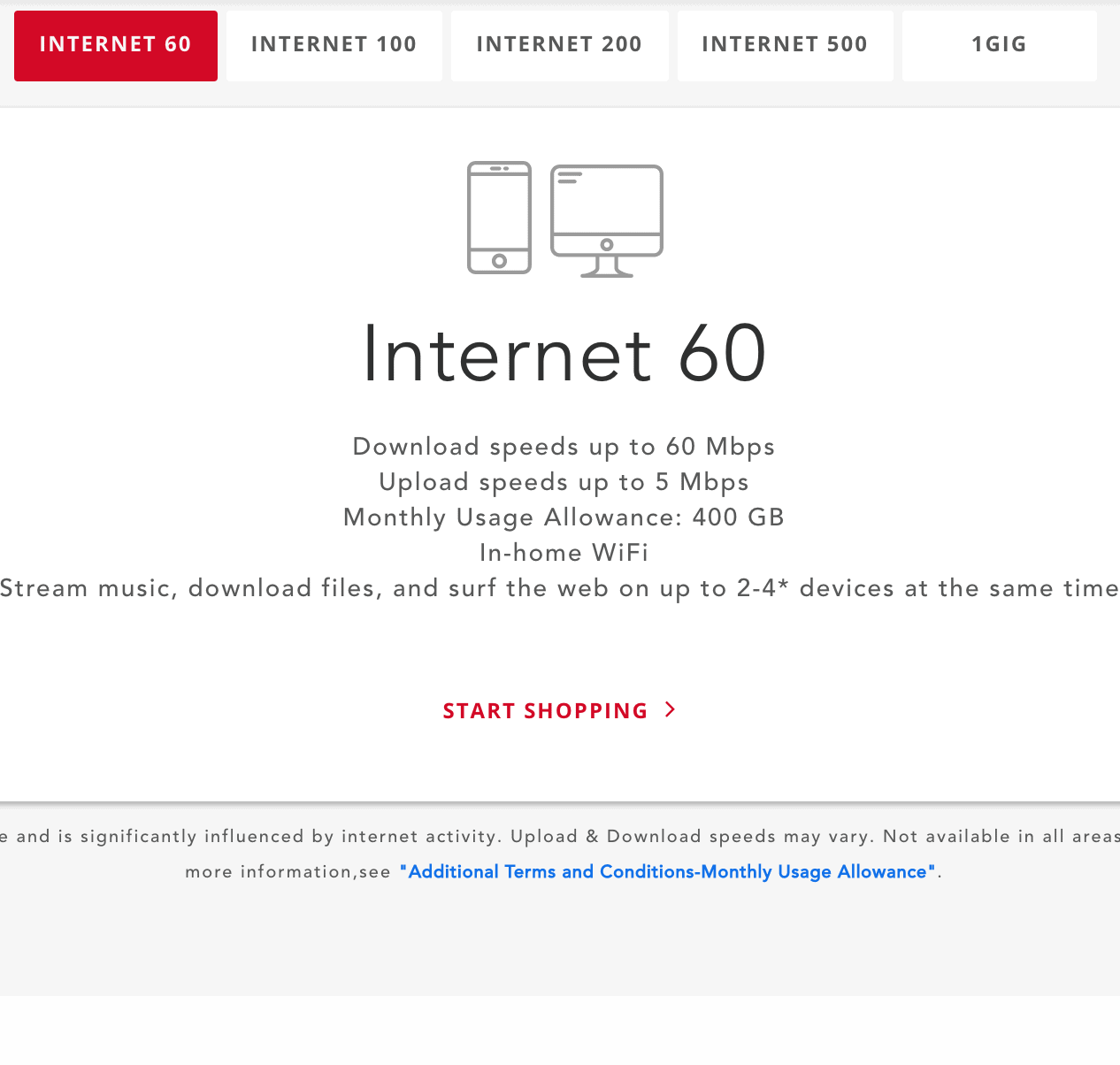 Internet 60 offers the best of Mediacom's network at a surprisingly reasonable monthly price. The download speeds are more than enough to handle intensive uses like streaming Netflix or chatting on Skype, as well as casual gaming.
Includes:
60 Mbps download speeds
5 Mbps upload speeds
400 GB data cap
All Current Mediacom Cable Deals
Below you'll find a list of all of the deals from Mediacom that we've collected. More may be available online or via speaking with a sales agent over the phone.
| DEALS | PRICE MONTHLY | INTERNET SPEED | INCLUDES TV | INCLUDES PHONE |
| --- | --- | --- | --- | --- |
| Internet 60 — Best Internet-Only Deal | $39.99 | 60 Mbps CABLE | No | No |
| 60 Mbps + Variety TV | $89.99 | 60 Mbps CABLE | Variety TV | No |
| 100 Mbps + Variety TV + Phone | $109.99 | 100 Mbps CABLE | Variety TV | Phone |
| 100 Mbps | $49.99 | 100 Mbps CABLE | No | No |
| 200 Mbps | $59.99 | 200 Mbps CABLE | No | No |
| 500 Mbps | $69.99 | 500 Mbps CABLE | No | No |
| 1,000 Mbps | $79.99 | 1,000 Mbps CABLE | No | No |
| 60 Mbps + Variety TV + Phone | $99.99 | 60 Mbps CABLE | Variety TV | Phone |
| 100 Mbps + Variety TV | $99.99 | 100 Mbps CABLE | Variety TV | No |
| 200 Mbps + Variety TV | $109.99 | 200 Mbps CABLE | Variety TV | No |
| 500 Mbps + Variety TV | $119.99 | 500 Mbps CABLE | Variety TV | No |
| 1,000 Mbps + Variety TV | $129.99 | 1,000 Mbps CABLE | Variety TV | No |
| 200 Mbps + Variety TV + Phone | $119.99 | 200 Mbps CABLE | Variety TV | Phone |
| 500 Mbps + Variety TV + Phone | $129.99 | 500 Mbps CABLE | Variety TV | Phone |
| 1,000 Mbps + Variety TV + Phone | $139.99 | 1,000 Mbps CABLE | Variety TV | Phone |
Plans last updated 8 days ago. Plan details change frequently, always verify plan details with the Mediacom Cable directly before purchasing service.
When is a Mediacom Cable Internet Deal the Best Option?
Mediacom Cable frequently competes with DSL providers, including some pretty impressive ones (like AT&T Internet, which fared well in our AT&T review). While they can't hold a candle to the speed of pure fiber networks, Mediacom is almost always a step up from traditional DSL.
Pros
Download speeds from 100–1,000 Mbp
Cable TV bundle deal
90-day satisfaction guarantee
Cons
Slow upload speed
Limited TV flexibility
Limited availability
Overall, Mediacom is best for customers who want to combine TV and Internet for one price. It's also ideal for those who enjoy traditional live cable TV news, sports, and etc. Some customers will still prefer the flexibility and features of satellite TV options like DirecTV or DISH TV. Despite this, the savings from bundling make Mediacom the better package price-wise.
Customers we spoke to used Mediacom for family homes, home offices, and gaming. The sentiment overall was that Mediacom delivered reliable service that exceeded expectations for basic cable. The main complaints were related to upload speeds on some plans, which were limiting for intensive real-time use cases like streaming on Twitch or multi-player gaming. Latency reports were normal for cable, and much better than DSL alternatives.
Are Mediacom Cable Bundles Worth Buying?
Mediacom's bundled plans follow the industry-standard: Internet and cable TV for a reduced price, or a "triple play" phone/TV/Internet plan for even bigger savings.
Their TV service doesn't offer the same level of premium and sports channel support as some of their competitors, but the price on basic channels with a few premium add ons (HBO, NFL, etc) is a good fit for the average subscriber.
NFL Network, NFL Red Zone, FOX College Sports, and most other major sports channels are available as add-on packages with their TV service.
Their digital home phone service includes unlimited nationwide calling, as is standard for digital phone deals from wired telecom companies these days.
Mediacom Cable's biggest drawback: Availability
For those of us who move around every year or two, Mediacom's limited national availability can be a drawback. (Particularly if you like to own your own home networking equipment, which varies from provider to provider so far as compatibility.)
Where Mediacom Cable Shines: Speed and Reliability
Mediacom offers a lot of flexibility on speeds, with some areas having download options in the gigabit range.
These connections don't usually offer the same upload speeds as competing fiber providers. To be fair, though, the 20 Mbps upload is good enough for all kinds of intensive real-time use, including gaming and video conferencing.
Mediacom really impressed us in this category. While we had plenty of nice things to say in our Spectrum review and our Comcast review, DSL plans from those big-time providers are no better than Mediacom in this category.
The only drawback here is that it comes at a price — more than twice the cost of the average fiber connection in similar speed ranges, and requiring a multi-year contract to cover the installation costs on Mediacom's side.
Comparing Mediacom Cable Deals
We found a couple of common pricing tactics used on Mediacom Internet plans worth keeping an eye out for: Equipment rental fees and contract pricing.
Mediacom Equipment Rental Fees
Mediacom prefers that you lease equipment directly from them, and this is actually a better deal for short-term customers or those who prefer to have a technician handle setting up and maintaining their home network. For long-term customers and those who want more advanced features, it's better to save the monthly fee and purchase your own equipment instead. Mediacom clearly lists the requirements for third-party modems and routers on their website.
Mediacom Cable Contract Pricing
Like most cable providers, Mediacom often creates sign-up incentives for new customers by dropping the rate for a 12-month period. After that, you get bumped up to the regular rate, which is usually around 20% higher than the promotional rate. If you're signing a multi-year contract, just be sure to average out your monthly rate over the entire service period to make sure you're getting the deal you think you are.
Mediacom DVR options
MediaCom provides TiVo DVR's in all of its Xtream service plans, though specific technical specs are not provided on the company's website. The top-tier offering can record up to 1 TB worth of content, including the ability to record up to six episodes at the same time. Multi-room service is listed at $19.95, whereas single-room service is $14.95.
The Xtream TV app allows for you to manage and schedule recordings on the go, as well as stream live channels and recorded content to an Android or iOS device.
| DVR | STORAGE | TUNERS | LEASE (MAY VARY) |
| --- | --- | --- | --- |
| ULTRA TiVo Whole-home DVR | Up to 100 hrs HD | Up to 6 | ~$14.95–19.95/mo. |
Conclusion: Mediacom is better than your average cable company
Cable companies aren't usually well-liked in the US, but Mediacom is an exception to the rule. We found that customers were overall happy with their service, especially compared to some of the more impersonally cable corporations.
The speeds are good enough for most users, and the pricing on TV bundles provides good value — particularly for family homes that need a little bit of everything from sports to children's programming.
If the pricing is too high for your situation, you're probably looking at DSL as an alternative. Make sure to find out if you have a "plan B" is, and check out the competition. Thanks to Mediacom's 60-day satisfaction guarantee, you can always switch if you don't like it after all.
References and Footnotes