Optimum is the East Coast brand of Altice USA, a multi-service provider that offers cable and fiber internet plans with speeds up to 940 Mbps. With monthly prices starting from $44.99, cord-cutters can get fast speeds for a meager price. While there are less expensive cable internet plans from ISPs like RCN, Optimum's fiber plans have ultra-fast speeds.
To top it off, Optimum's plans are contract-free with no data cap limitations. Below, we'll take a closer look at Optimum as a company, break down their prices, tell you which plans we recommend, and answer the most frequent questions we hear from readers like you.
What to Expect from Optimum
If you're lucky enough to live in Optimum's small coverage area, you'll be able to save money and still get fast internet speeds. AT&T is one of the few providers with a gigabit plan that will cost you less than the impressive Optimum deals do.
If you've had your fair share of internet providers, the rest won't come as a surprise to you. Optimum offers free internet security, a router that can provide a strong Wi-Fi signal throughout your home, and free access to their public hotspots. I'm actually surprised that a regional provider like Optimum, one that's only available in a small part of the U.S., offers free hotspot access. Usually, hotspot access is something only nationwide providers offer.
Let's not forget, too, that there aren't any data caps or contracts required for Optimum's internet plans — these are some of the things I look for first when searching for a provider.
Since Optimum is mostly a cable internet provider, you should also expect to get speeds slower than what's advertised at certain times. Cable internet speeds slow down, similar to how traffic does when everyone is going home from work. And it doesn't matter who the provider is; cable networks can only handle so much congestion. That's why Optimum's high-speed tiers are worth considering. There's more than enough room for your speed to slow down without making you feel like there's a problem with your connection.
A Breakdown of Optimum's Plan and Pricing
Optimum's internet-only plans start at $30-50 per month, not including equipment and additional fees. The best way to compare a provider's pricing is to look at its price per Mbps.
| Plan | Price | Speed |
| --- | --- | --- |
| Optimum 300 (cable) | $44.99 per month | Up to 300 Mbps |
| Optimum 500 (cable) | $64.99 per month | Up to 500 Mbps |
| 1 Gig | $84.99 per month | Up to 940 Mbps |
Starting at $44.99 for the Optimum 300 plan, Optimum offers great internet value, especially when you compare Optimum to Verizon Fios. In fact, most providers with plans as low as $45 per month either offer DSL plans or plans with speeds ranging from 50-200 Mbps. Of course, speed isn't the only thing to consider when looking at a provider's pricing.
Certain connection types can provide a more stable connection with slower speeds than others with faster speeds. Take Optimum's fiber and cable internet, for example. Fiber is the best internet connection for cord-cutters because it's the most reliable. With fiber, you can get faster upload speeds than you could with cable internet, and your speeds will be much closer to (or even faster than) your plan's advertised speed.
Optimum gets extra points for its internet pricing due to its streaming-friendly features, which make it a great choice of internet provider for cord-cutters:
No contracts
No data caps
No early termination fees (ETFs)
Speaking of fees, all internet providers charge extra fees for things like equipment rental, installation, and activation. Most also have random one-off fees for Wi-Fi, network enhancements, and more. Optimum's internet fees are on par with those of other cable and fiber internet providers when you look at them as a whole. If you decide to rent equipment from Optimum, you may be able to get standard installation for free. If not, expect to pay at least $59 for installation.
Why Choose Optimum?
Optimum internet is ideal for:
People who don't want to commit to a provider
The budget-conscious
Remote workers
Households streaming on multiple devices
People who are on-the-go
For one, you get to test drive their service with their 60-day, money-back guarantee. You're still able to cancel service anytime after that without paying an ETF. There aren't exciting freebies like a free streaming subscription, but Optimum has features you may not realize you need.
You could pay for 1-2 streaming subscriptions with the money you save choosing Optimum over its competitors — especially if you rent the Altice One, which is Optimum's all-in-one streaming device, modem/router, and cable receiver. Optimum and its sibling Suddenlink are the only providers with such a device. If you decide to bundle at some point, you'll see even more savings since you won't have to pay an extra equipment fee for a cable box.
Optimum's smart router gives you better Wi-Fi coverage in your house while ensuring you are on the fastest network. I could go on, but it's better if you read this year's review of Optimum's internet to see how Optimum's smart router works and why I chose Optimum over providers like Verizon Fios and Xfinity.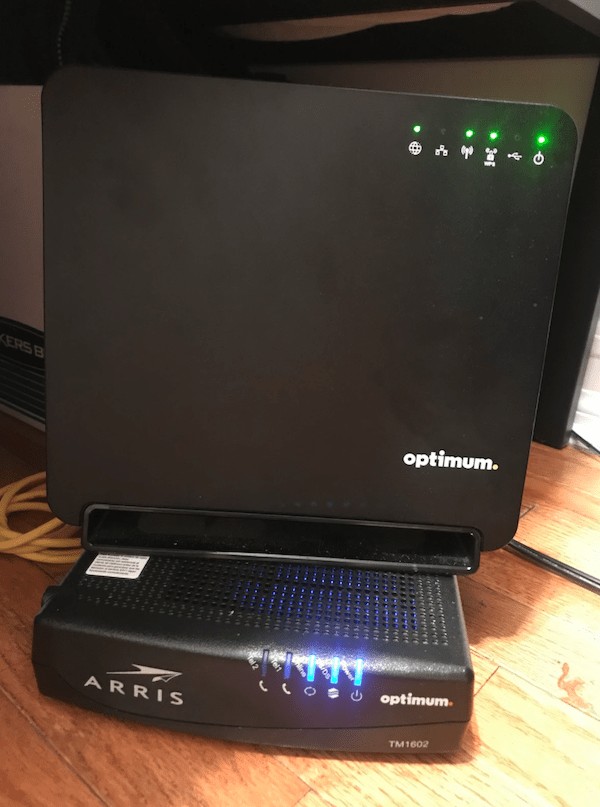 Final Verdict
Optimum is not new to the internet and TV market. Before 2016, Optimum was owned by Cablevision and marketed as Optimum by Cablevision. Altice, Optimum and Suddenlink's parent company acquired Cablevision in 2016. There's almost no difference between now and pre-2016, because Altice continues to push the Optimum brand name. The main difference you'll notice is that new equipment falls under the Altice name, e.g., the Altice One cable box receiver, streaming device, and modem/router in one.
Some say Optimum services were better under Cablevision, but cable internet can only handle so much at the end of the day. Luckily, Optimum also has fiber internet at a price that most providers can't beat.
The Good
The Bad

Great internet deals for new and existing customers
Over two million public Wi-Fi hotspots
Free internet security powered by McAfee (when you use their equipment)
Free smart router
Contract-free plans with no data caps

Poor customer reviews
Availability limited to four states (NY, NJ, CT, and PA)
Subject to price increases during the promotional period
Limited number of plans
Frequently Asked Questions About Optimum
How much is Optimum internet?
Optimum internet-only pricing starts at $44.99 per month for the Optimum 300 plan with download speeds up to 300 Mbps.
How to cancel Optimum internet
The best way to cancel your Optimum service is by contacting customer support. You may be required to call customer service, but it's also good to handle this type of situation via chat or direct messages. You can screenshot the conversation in case your service doesn't shut off when it should be.
Why did my Optimum internet bill go up?
Optimum can increase their prices at any time according to their fine print. You'll typically get a warning at least one billing cycle before the change occurs.