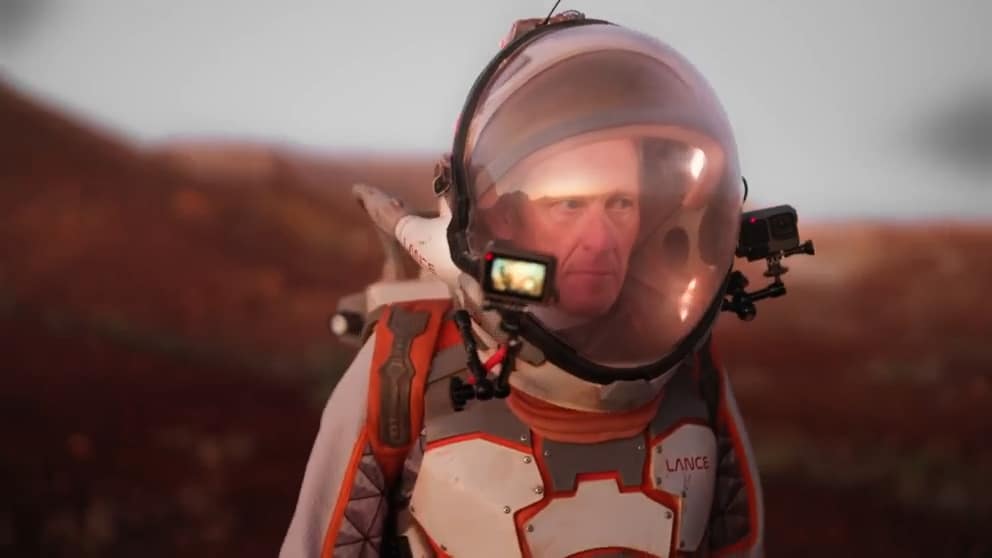 "Stars on Mars" lost one of its biggest antagonists this week, and the implications for our power rankings are absolutely massive. Check out our ranked list of remaining contestants, and be sure to leave us a comment if you disagree with the order!
---
Past power rankings:
Week 1 | Week 2 | Week 3 | Week 4 | Week 5 | Week 6 | Week 7 | Week 8
---
1. Tinashe
Last week: 1 ↔
Tinashe took on the role of mission specialist in Episode 9, and she used her power to push for Lance Armstrong's elimination. She succeeded with a little help from Lance himself, who read the writing on the wall and volunteered to exit the hab. Tinashe has consistently made efficient use of her time in leadership roles, and she's one of the most popular members of what is now indisputably the hab's strongest alliance.
2. Adam Rippon
Last week: 4 ↑
A strong mission performance helped Adam steer clear of elimination risk this week, and the departure of Lance Armstrong — one of Adam's major antagonists — puts Adam in a much stronger position.
3. Porsha Williams Guobadia
Last week: 5 ↑
Porsha finally attained the role of base commander in Episode 9. She seems to be in a pretty strong position thanks to her friendships with Tinashe and Adam. Though she flirted with Team Jock at times in prior episodes, Porsha was smart enough to team up with Team Tinashe when the chips were down.
4. Ariel Winter
Last week: 8 ↑
Perhaps nobody in the hab benefits as much from Lance's ejection as his arch-nemesis Ariel Winter. With that said, even Ariel's allies seem to find her grating at times. She's in a stronger position than any survivors of the once-mighty jock caucus, but she may be in a more delicate spot than any other member of the Team-Tinashe majority.
5. Cat Cora
Last week: 2 ↓
Cat just had her second poor mission performance in as many tries, and she watched her budding alliance with Lance Armstrong disappear when the cyclist voluntarily walked away from the hab. Cameras caught Cat making a bid for an alliance with Paul Pierce at the end of this episode, but a Cat-Paul duo will be no match for the Tinashe alliance if the latter puts up a united front.
6. Paul Pierce
Last week: 6 ↔
Paul Pierce had an unremarkable Episode 9, which wasn't enough to save him from a fall in our rankings. Paul's drop is driven largely by the departure of Lance Armstrong, which — along with Ronda Rousey's exit a couple of episodes ago — has left the jock alliance in shambles. Team Tinashe rules this hab now, and Paul isn't a member.
7. Marshawn Lynch
Last week: 7 ↔
Marshawn spent episode nine dwelling on a meaningless beef with his longtime ally Lance Armstrong. Then Marshawn watched as two jocks — Paul Pierce and Lance — ended up in the bottom three, and Lance opted to walk away from the show. The jock caucus is in ruins, and the mercurial Marshawn may be its most vulnerable former member.
---
Eliminated: Lance Armstrong
Last week: 3 ↓
When the machinations of Mission Specialist Tinashe relegated Lance to the bottom three, he took the coward's way out and volunteered to leave the hab. The show has now had nearly as many quitters as it has had genuine ejections.
Eliminated: Andy Richter (Episode 8)
Last week: N/A
Andy made an enemy in Episode Seven when, as base commander, he put Cat Cora in his bottom three. In the very next episode, Cat ascended to the base commander role and set about making Andy's life miserable before sending him packing at the end of the episode.
Eliminated: Ronda Rousey (Episode 7)
Last week: N/A
Despite having a very strong position as the best-liked member of the still-powerful jock clique, Ronda volunteered to go home in Episode 7. It was the most disruptive self-ejection yet.
Eliminated: Ashley Iaconetti (Episode 6)
Last week: N/A
Ashley Iaconetti arrived in Episode 5 and was promptly ushered out in Episode 6. Not much happened with her in between.
Eliminated: Tom Schwartz (Episode 4)
Last week: N/A
Tom was one of two people kicked out of the hab in Episode Four's surprise double-elimination (the other was Natasha Leggero). Tom's ejection seemed to have more to do with accumulation of bottom-three performances than it did with any specific mistakes he made in his final episode.
Eliminated: Natasha Leggero (Episode 4)
Last week: N/A
Like Richard Sherman the week before, Natasha actually requested to be sent home. The difference in her case was that she was absolutely getting booted off regardless.
Eliminated: Richard Sherman (Episode 3)
Last week: N/A
In easily the most shocking moment of the show so far, Richard Sherman effectively quit during the elimination phase of Episode Three. Technically in the bottom three but in no real danger of elimination, thanks to Marshawn's antics and Natasha's incompetence, Sherman declined to mount a defense. Instead he gave a short speech volunteering to be sent home. Base commander Tinashe obliged.
Eliminated: Tallulah Willis (Episode 2)
Last week: N/A
Tallulah managed to win the base commander job in Episode Two, only to meet with failure in the emergency challenge. The team's flop made Tallulah eligible for elimination, and mission specialist Natasha Leggero sent Willis packing.
Eliminated: Christopher Mintz-Plasse (Episode 1)
Last week: N/A
Poor McLovin was booted in the series premiere. Things move fast on Mars, and Mintz-Plasse just couldn't get out of the gate cleanly.