As cable subscriptions rates continue falling and prices continue rising (gee, maybe the two are related?), more people are considering whether or not now is the time to finally cut the cord and ditch their costly cable subscriptions.
With widespread access to high-speed home broadband, we may be reaching the tipping point for cable — if we're not there already. When you examine the data surrounding pay TV, streaming and broadband, it's not hard to see why.
In fact, we believe not only will more Americans cut the cord this year but that a few cities may well lead the way thanks to improved access to technology and absolutely blistering download speeds becoming more common. Skip to the bottom if you're OK with spoilers; otherwise read on for our complete analysis.
Watching Outside The Box
Just a decade ago, nearly 90 percent of American TV-watching households subscribed to pay TV (cable, satellite or other telecom). While today's number still accounts for a majority of TV households, it's certainly falling faster than cable companies would like.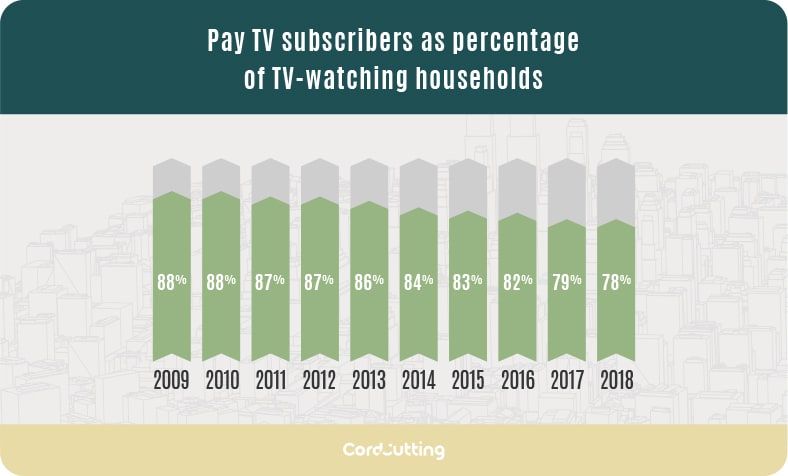 That 11 percent decline represents millions of households — and millions of dollars every year. And why are people canceling their cable subscriptions by the millions? According to TiVo's annual survey, price and the attractiveness of streaming services are the two biggest reasons.
Cable is expensive
The average pay-TV subscription was $71 in 2010; today, that's $107. That's an increase of 50 percent, nearly five times the rate of inflation during that same time period.
It's hard to imagine many other products experiencing similar price increases without consumers fleeing in droves.
Streaming rules
When it introduced video streaming in 2007, Netflix, which had been to that point a DVD rental service, opened the floodgates on a trend that would completely revolutionize how we consume media.
Today, nearly 30 percent of American adults watch TV mostly through streaming services, and that number is even higher for young adults, as 61 percent of those 18-29 use streaming to consume most of their TV.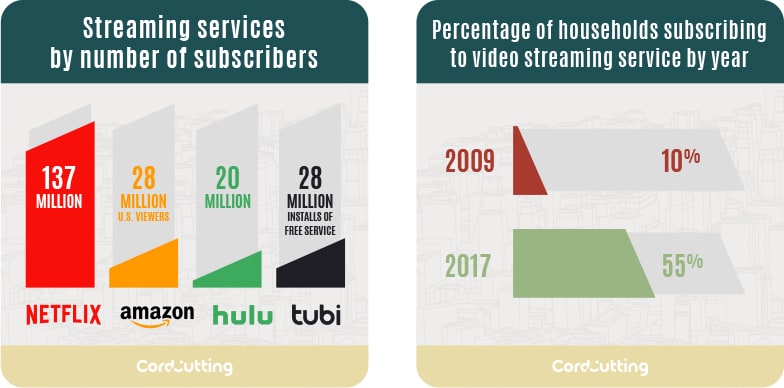 That 450 percent increase is owing largely to video streaming being in its infancy back in 2009, but the fact that more than half of homes have at least one streaming service is telling.
Broadband is everywhere
Well, not quite, but it's in most places, and the federal government has established a series of plans to expand broadband into as many communities as possible, which will mean even more people will have access to the kind of high-speed internet required to stream video without frustration.
Plus, you don't necessarily need to live in an area with broadband if your mobile provider's speeds are adequate for streaming (more than half of smartphone users stream video on their devices).
Which leads us to …
How Many Of Us Have Broadband?
Effectively eliminating your cable TV relies heavily on having high-speed broadband internet (if you want to actually keep watching TV on large screens, that is). According to the most recent Census data, household broadband penetration has risen more than 10 percent in recent years.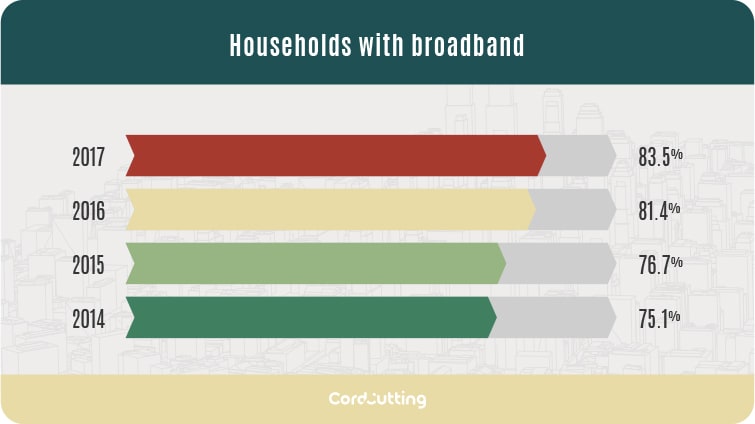 But the likelihood of having access to high-speed internet depends heavily on where you live, as some states and cities lag behind others when it comes to broadband access.
States
Even in the state with the lowest household broadband penetration, Arkansas, nearly three-quarters of households have broadband internet, and 20 states have broadband penetration numbers higher than the national number.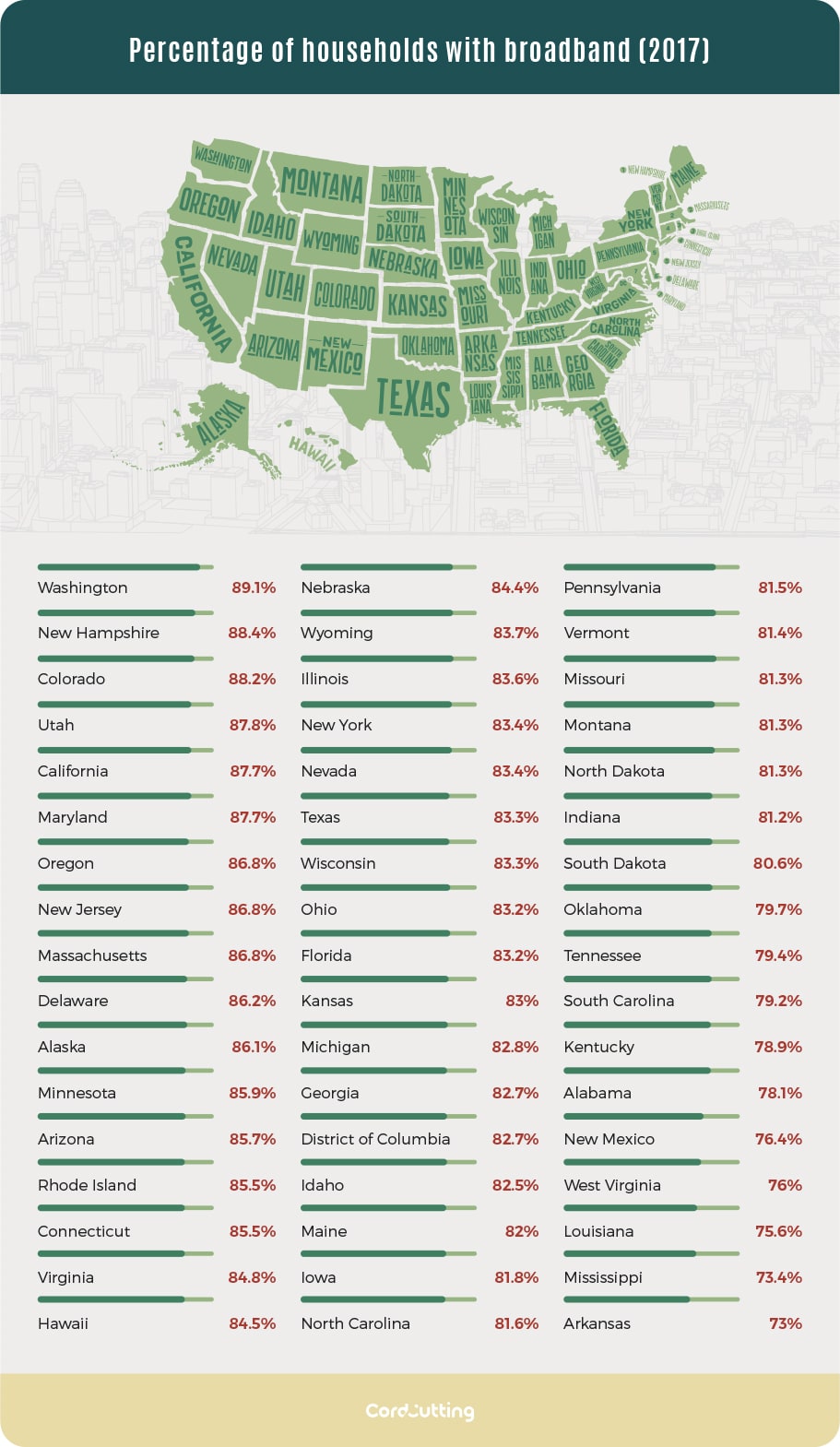 While Arkansas finds itself last on this list, the state posted the second-largest increase in broadband penetration.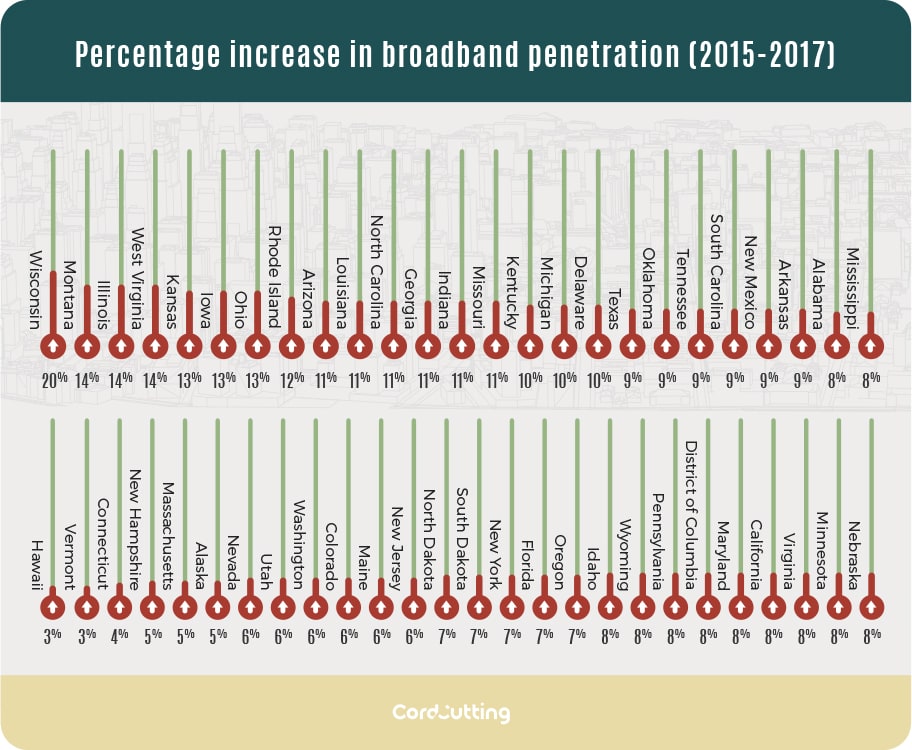 Cities
The American cities leading the way in broadband access should be a surprise to anyone, as the top two cities also happen to be home to some of the largest technology companies in the world. Still, nearly 200 metro areas boast broadband access figures that eclipse the national rate, and 13 metro areas have eclipse the 90 percent mark.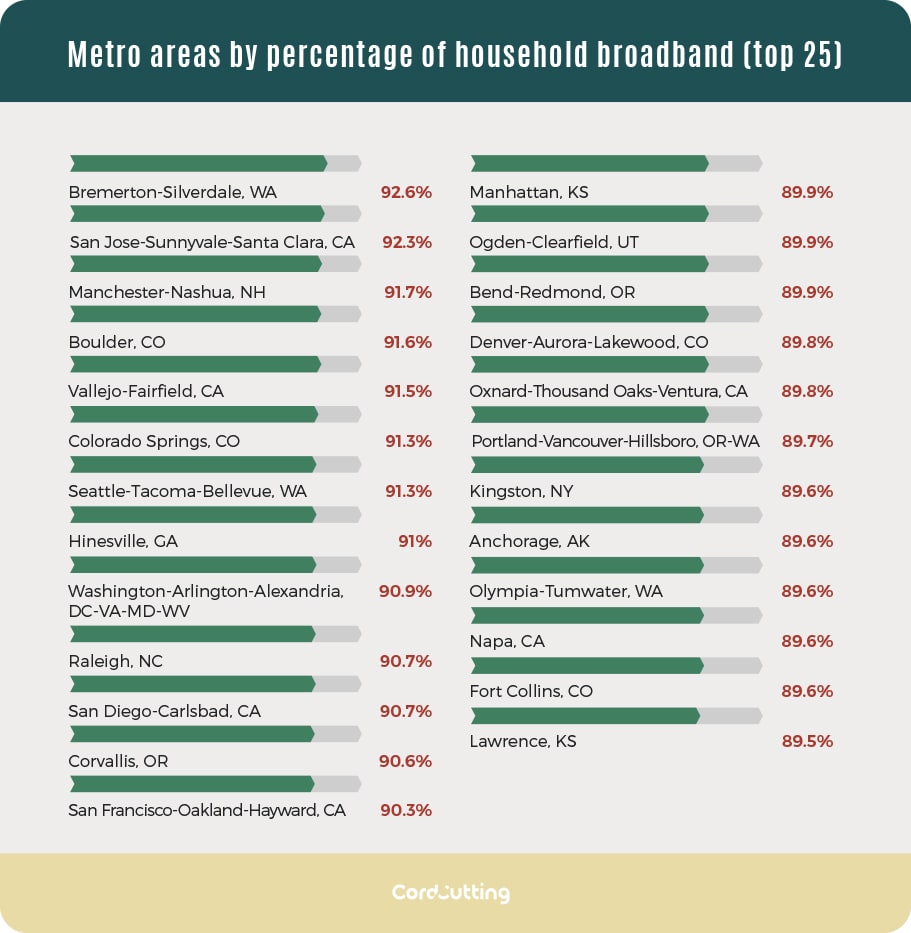 As with the state-by-state picture, dozens of cities have posted enormous gains in broadband access figures. The Pine Bluff, Arkansas, metro area posted the single biggest gain, with household broadband access rising by one-third.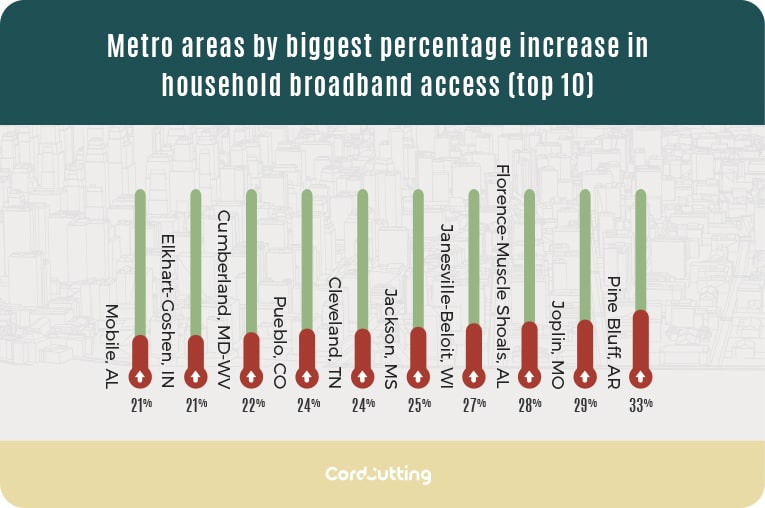 Cordcutting Epicenters For 2019
Just having broadband may not be enough to cut the cord and still get the entertainment you want. But there are a few cities that exist in the Venn diagram of overlap between adequate broadband availability and excellent speeds.
We've identified six cities we believe to be at the nexus point of cordcutting for 2019. These are cities where household broadband penetration is around 90 percent and the leading ISP's fastest available download speed is higher than 110Mbps; four other cities were close, so we're putting them on the list, too.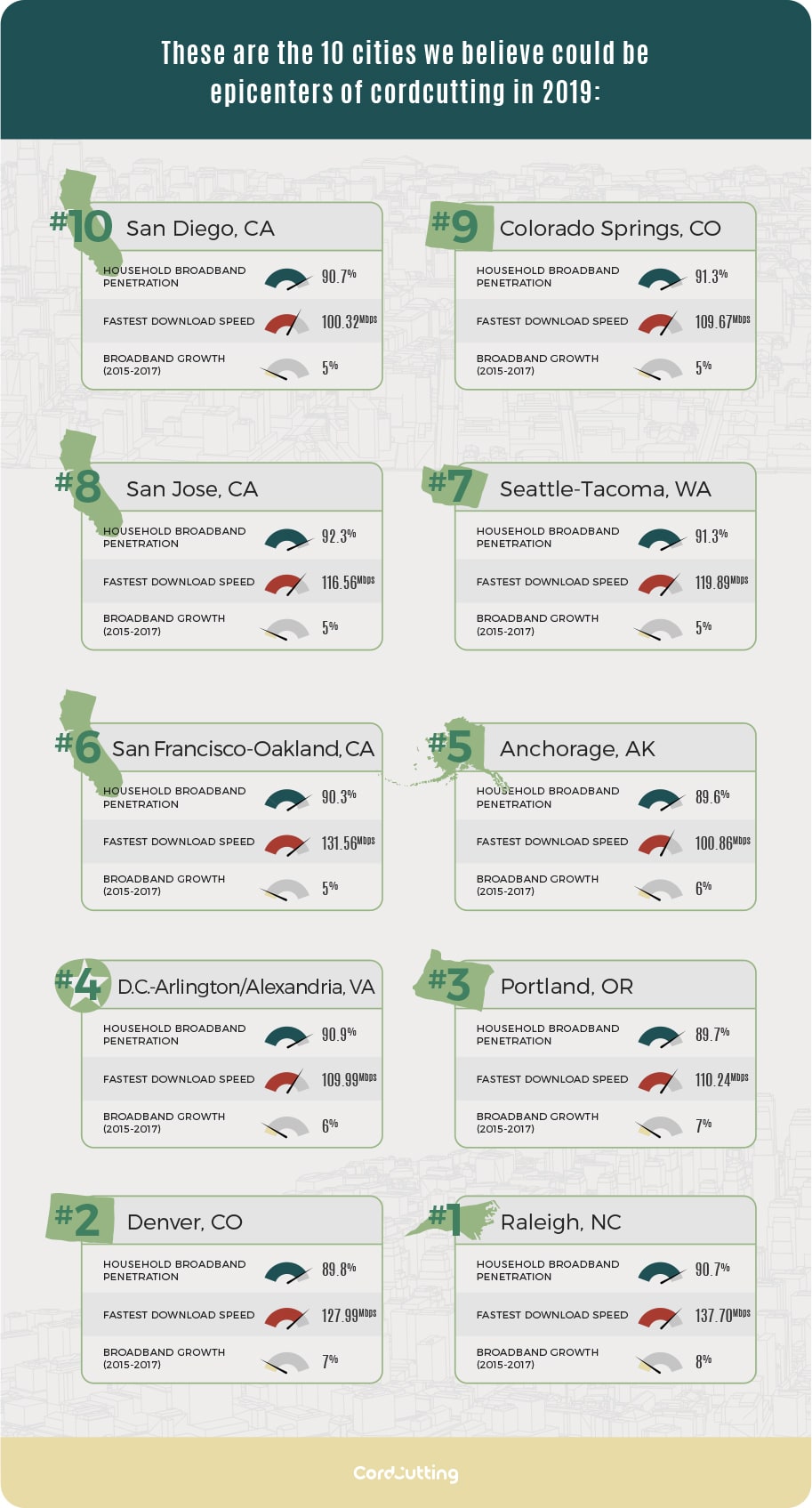 Conclusion
Especially if you live in one of the 10 cities outlined above, but even if you don't, based on our analysis, there's never been a better time to free yourself from cable's grasp. With wide availability of lightning-fast internet and a choice of several excellent streaming services, will 2019 be the year you finally ditch cable?
Sources
Where possible, we've linked to original sources citing single data points, but much of this research required compiling data from sources over several years, and here's a look at those sources and other helpful notes:
Pay TV subscriptions: Leichtman Research Group conducts a series of in-depth surveys several times per year, including on cable subscriptions and prices, home internet service and smartphone use. Check out their recent publications here.
Cable subscription costs: This data came from a pair of sources. The 2011 price was found here, and the 2017 price came from Leichtman, as reported by Fortune.com.
Broadband penetration: All of this data came from the U.S. Census Bureau through the American FactFinder tool.
Internet speed: To help determine which cities were most likely to see a surge in cordcutting, we felt it was important to know not only which cities and states have access but how fast the speeds are. After all, not much point having broadband service if all you can do is email. We consulted SpeedTest.net's 2018 report, which lists typical broadband speeds across the states and several cities. Because of differences between federal definitions of metro areas and the cities tested by SpeedTest.net, some nearby communities were substituted for others. For instance, while the Census counts Denver and Aurora, Colorado, as being in the same metro area, SpeedTest.net's testing indicated Aurora's speeds were higher than Denver proper, so we included Aurora's speeds when determining our 10 epicenters.
Fair Use Statement
The material on this page is free to share for noncommercial use. When using the text or images from this page, we ask that you properly attribute it with a link back to the URL.