2023 Annual Streaming Media Report: The Year of Churn
Streaming platforms have huge opportunity to gain customers in 2023: 55% of all streamers plan to switch up subscriptions this year.
Written By: Stephen Lovely | Published: March 15, 2023
---
After quickly overtaking cable and becoming part of everyday American life, streaming video platforms now struggle with their business models. Faced with fickle consumers, soaring production costs, and a diluted market beset by mooching, 2023 is shaping up as an industry inflection point.
Despite immense popularity, profits still need to be maximized for most streaming platforms. Anxious investors are pushing consolidation, cost controls, crackdowns, and price hikes to revive bottom lines, yet these measures threaten alienating customers.
Navigating the market will require acumen, artistry, and insight into subscriber preferences. What will set the successful on-demand streaming platforms apart from struggling competitors, and how can they maximize customer loyalty? To find out, we asked more than 1,000 Americans about their viewing habits and entertainment choices to assemble our annual State of Streaming Report.
Key Findings:
Ninety-three percent of American adults access streaming video platforms, while only 40 percent have cable or satellite service. The average viewer spends $50 monthly on streaming services across four different platforms, with Netflix being the most popular.
Max scored the highest viewer approval ratings and registered high for potential new subscribers. Combined with its impending merger with Discovery+, the platform is ready to contend as a top service.
One in three of the remaining cable/satellite subscribers would cancel their connections if their preferred sports content was available on streaming platforms.
More than one in five streamers borrow passwords to access platforms without subscribing, with Netflix the most affected service. This practice of "mooching" will cost the industry approximately $2.4 billion this year.
More than one in four streamers plans to cancel at least one of their subscriptions this year. Forty-four percent said they're canceling due to a lack of interesting content.
---
Table of Contents
---
Streaming and Cable Market Statistics
Despite being the new kid on the block, streaming viewership has already eclipsed cable television and broadcast TV. After adding another 25 million viewers last year, on-demand video streaming has reached nearly the entire population. It's official – we're a cord-cutting nation.
| Year | Streamers | % of all U.S. adults |
| --- | --- | --- |
| 2021 | 214.8 million | 90% |
| 2022 | 214.9 million | 89% |
| 2023 | 240.2 million | 93% |
With 93 percent adoption, streaming platforms now have more than double the base of traditional cable TV (which has dropped to 40 percent of American adults). No longer an emerging or complicated technology, more than 90 percent of every generation uses video streaming platforms.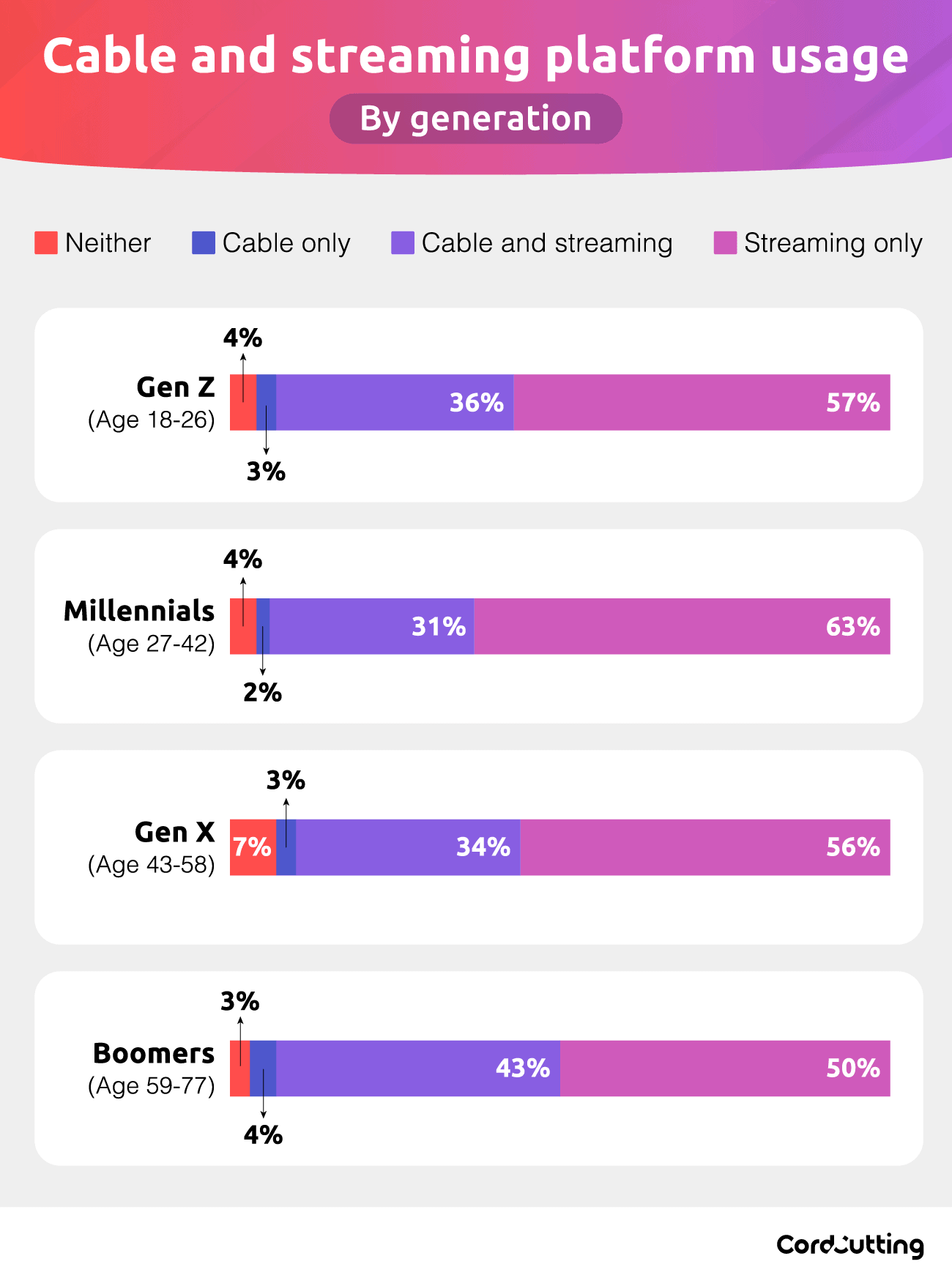 Netflix pioneered streaming in 2007, launching with 1,000 titles. Since then, bitrates exploded, catalogs expanded, and several legacy media entities launched rival streaming services. Through it all, Netflix still tops the field, streamed by nearly three out of four American adults.
Most popular streaming platforms in U.S.
| Platform | % of American adults who use |
| --- | --- |
| Netflix | 73% |
| Amazon | 67% |
| Hulu | 52% |
| Disney+ | 42% |
| Max | 39% |
| Peacock | 31% |
| Paramount+ | 24% |
| Apple TV+ | 17% |
| YouTube TV | 14% |
| ESPN+ | 9% |
| Discovery+ | 9% |
| Crunchyroll | 7% |
By packaging its video service with Prime membership, Amazon reaches two-thirds of the population and ranks as the #2 platform. Number three is Hulu – an early entrant that milked partnerships with several media mainstays to gain a market share of more than half the nation.
Disney+ launched only four years ago but has since attracted more than 40 percent of the country with its collection that includes Star Wars, Marvel, National Geographic, and The Simpsons, alongside its classic family-friendly movies. On the strength of its pedigree and slate of buzzworthy shows, Max rounds out the top five. Peacock, Paramount+, And Apple TV+ are newer services that have already made a sizable splash.
The average American adult streams four different services, supplying these platforms with over one billion collective viewers. Popularity isn't an issue, but profits are a problem as shareholders grab the spotlight from subscribers.
Impact of Password Sharing on Streaming Profits
America's cord-cutting craze spurred streaming wars between platforms spending lavishly on content to capture a share of curious new customers. However, that chaotic expansion may have come to an end. With the market now nearly saturated and the marketplace fractured, new subscribers – and profits – are scarce.
One common practice that cuts into profits is "mooching," which we have researched since 2020. Nearly every American streams at least one video service, but not all viewers properly access these services. Password sharing outside subscriber households costs the industry billions.
Our study found that about one in every five streaming viewers (21 percent) mooch at least one platform login, with the average moocher borrowing 1.7 passwords. This practice is most common among younger generations. This year, moochers impact Netflix and Disney+ more than others – one in six of their viewers are freeloaders.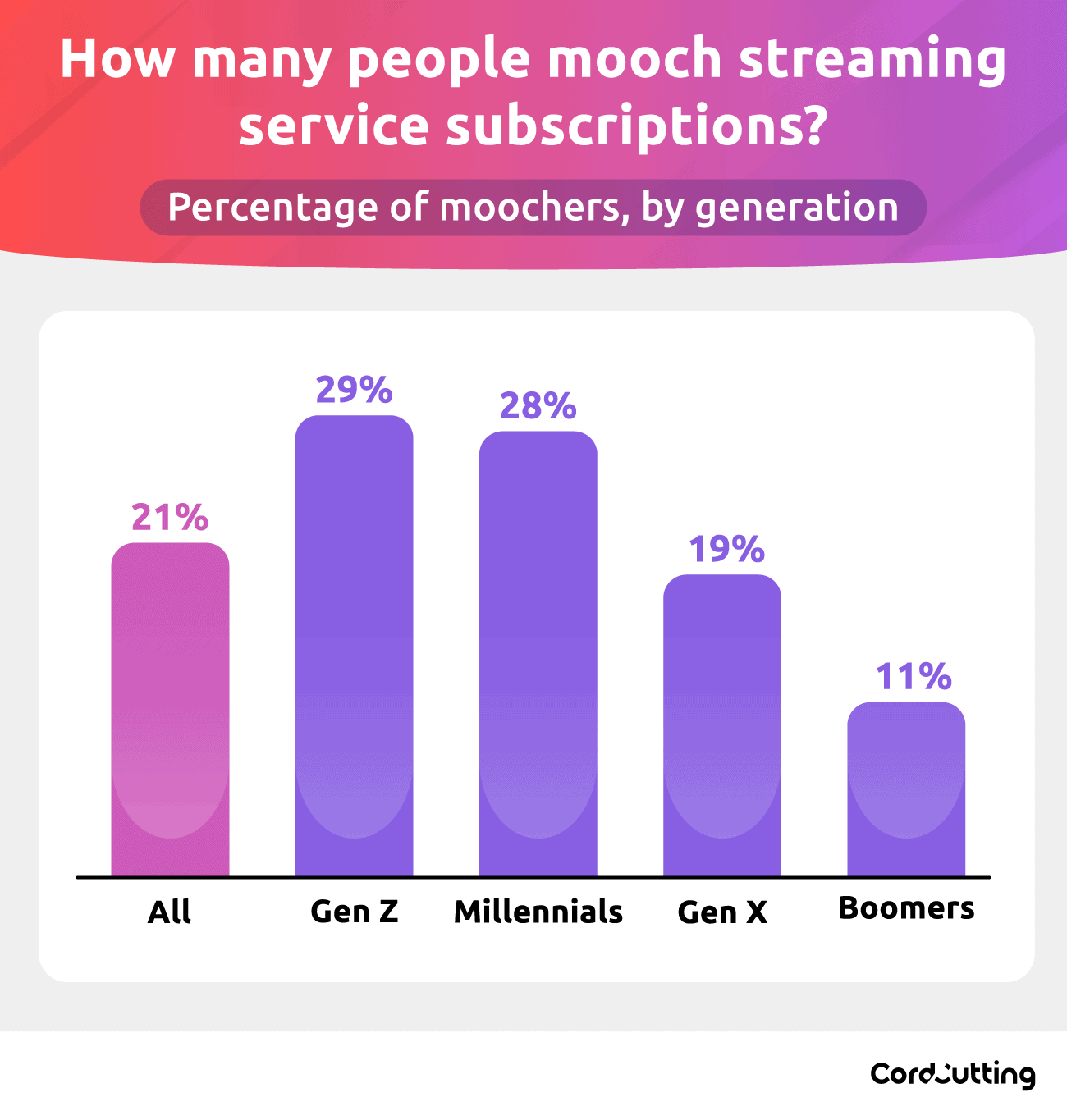 Percentage of viewers using account belonging to someone outside their household
| Platform | 2020 | 2021 | 2022 | 2023 |
| --- | --- | --- | --- | --- |
| Netflix | 14% | 14% | 11% | 16% |
| Prime | 6% | 5% | 5% | 4% |
| Hulu | 14% | 11% | 12% | 9% |
| Disney+ | 14% | 20% | 16% | 16% |
| Max | – | 19% | 16% | 15% |
| Peacock | – | – | 3% | 7% |
| Paramount+ | – | – | 5% | 10% |
Our analysis determined that password sharing across streaming platforms costs content providers an estimated $2.4 billion. Now, the industry is planning a crack down, led by Netflix (that once declared that "Love is sharing a password").
By restricting logins to limited devices or ISP addresses, platforms can limit moochers and charge for additional access. One in five Netflix freeloaders says they'd subscribe if cut off from their unauthorized account. However, Max would benefit most by cracking down on password sharing: 24 percent of Max moochers would convert to true customers.
Percentage of unauthorized users who'd purchase streaming subscription if they lost access to "mooched" account
By platform
| Platform | Percentage |
| --- | --- |
| Max | 24% |
| Hulu | 22% |
| Netflix | 20% |
| Disney+ | 15% |
| Peacock | 10% |
| Paramount+ | 8% |
| Amazon Prime Video | 8% |
Other cost-cutting measures and revenue boosters under consideration include canceling shows, consolidating platforms, selling off content, and raising prices. Each of these could backfire by repelling subscribers.
Platforms Poised to Gain New Customers in 2023
With streaming adoption nearly universal in the U.S., the industry's focus has switched from driving user acquisition to subscriber retention.
Unlike the burdensome bundles of the old cable model, users can swap streaming subscriptions with a click. Viewers adjusting their budget or wrapping up binging may reshuffle their lineup monthly. Industry-wide, subscription churn reached 6 percent late last year – a dizzying turnover rate for streaming services.
In the third quarter of 2022, streaming platforms added 37.2 million subscriptions yet suffered 32 million cancellations for a net gain of 5.2 million accounts. This churn will continue into 2023: less than half of subscribers plan to retain their same packages the whole year, while slightly more customers will add new accounts than cancel.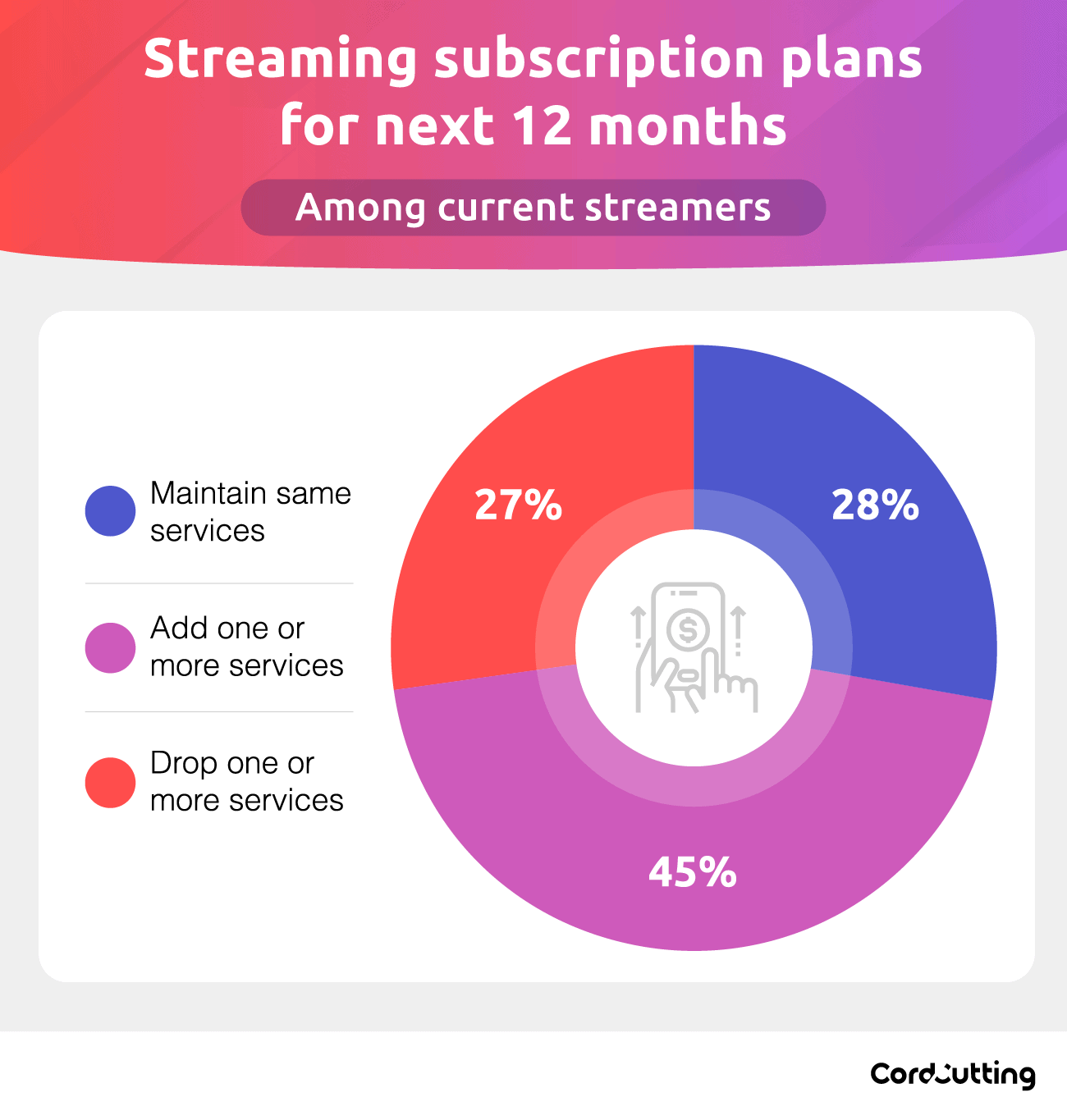 Main reason for canceling streaming subscriptions
Among those planning cancellations
| Reason | Percentage |
| --- | --- |
| Lack of interesting content | 44% |
| Price | 33% |
| Having too many subscriptions | 14% |
| Not enough time to watch | 8% |
| Controversial or offensive content | 2% |
The primary reason subscribers ditch platforms is a lack of interesting content. But that might be a pain point streaming executives could resolve without investing large sums into production.
Paul Jun, CEO of Filmocracy, an independent movie streaming service, said that marketing existing content and improving user experience could make a big difference in how users perceive the freshness of content on their platforms.
"The problem really isn't a lack of interesting content…there are more shows and movies than there ever has been before, and most of it no one knows about. So they should be focusing on marketing the content they have already spent millions producing," Jun explained.
"Just think about how many Netflix originals don't end up on the Top 10. That's the main problem; there's no good way to discover content within the platforms because they're all just thumbnail galleries," he added.
Top 5 platforms for user satisfaction
Max
Discovery+
Crunchyroll
Disney+
Hulu
Notably, the top two platforms for satisfaction (Max and Discovery+) will soon merge, possibly producing a new industry juggernaut. Discovery+ and Crunchyroll are niche services catering to specific tastes, while Disney+ is considered indispensable for any household with children.
Yet customer satisfaction alone doesn't make a provider secure. We asked streaming to tell us which platform they'd keep if they only could have one, and they favored Netflix by a sizable margin.
Most essential streaming services
If you could only have one subscription, which platform would you choose?
| Streaming Service | Percentage |
| --- | --- |
| Netflix | 33% |
| Amazon Prime Video | 17% |
| Hulu | 13% |
| Max | 12% |
| YouTube TV | 7% |
Perhaps "Netflix and chill" is so ingrained in society that subscribers can't imagine ditching the foundational streamer. Amazon Prime Video also appears secure, as many viewers consider the service "free" since it's part of their e-commerce membership. Hulu and YouTube TV each supply live television options, making them more essential to sports watchers and fans of traditional channel surfing.
Assessing streaming viewers' 2024 plans gives a preview of 2023's turnover rates. Paramount+ is poised to have the most turbulent year. One-quarter of its subscribers plan to cancel over the next year, but many non-watchers stand ready to join. This high turnover may reflect fluctuations connected to the platform's primary properties: Taylor Sheridan shows and Star Trek series draw fans on release, who may cancel after binging their faves. Max and Disney+ can also expect net positive gains in 2023, while Peacock faces the roughest road.
Anticipated subscriber gains and losses in 2023
| Service | Percent of subscribers planning to cancel | Percent of non-subscribers planning to join |
| --- | --- | --- |
| Paramount+ | 25% | 8% |
| Max | 14% | 7% |
| Disney+ | 15% | 6% |
| Amazon Prime Video | 9% | 9% |
| Hulu | 15% | 7% |
| Netflix | 19% | 13% |
| Peacock | 19% | 4% |
As the platform with the largest market share, Netflix has the most to lose. Following a decade of growth, the streaming giant registered its first quarter of contraction last year. Their loss of subscriptions sent shockwaves through the industry and motivated Netflix's crackdown on moochers and pivot to offer an ad-supported tier.
Peacock's troubles can partially be traced to poor initial support on specific TV systems and the lack of a signature hit show. Glowing reviews for its recent Poker Face series may help with the latter issue. Given these changes, what steps can all platforms take to maximize subscriptions?
What Customers Want: Cost, Content, and Convenience
Only one in six Americans who don't currently stream video expect to subscribe to a platform this year, a tepid expansion that would increase the 2024 audience to 94 percent of adults. On-demand video streaming services now strive for the dollars and loyalty of existing streaming customers. Asked what they prioritize when choosing television providers, respondents emphasized costs, content, and convenience.
Cost
One-third of subscribers planning to cancel a streaming subscription are doing so because of price. Streaming was once a cheap alternative to cable, yet as streaming platforms have multiplied and subscription rates climbed, this model has become less of a bargain. Most services have recently increased prices, with more hikes anticipated.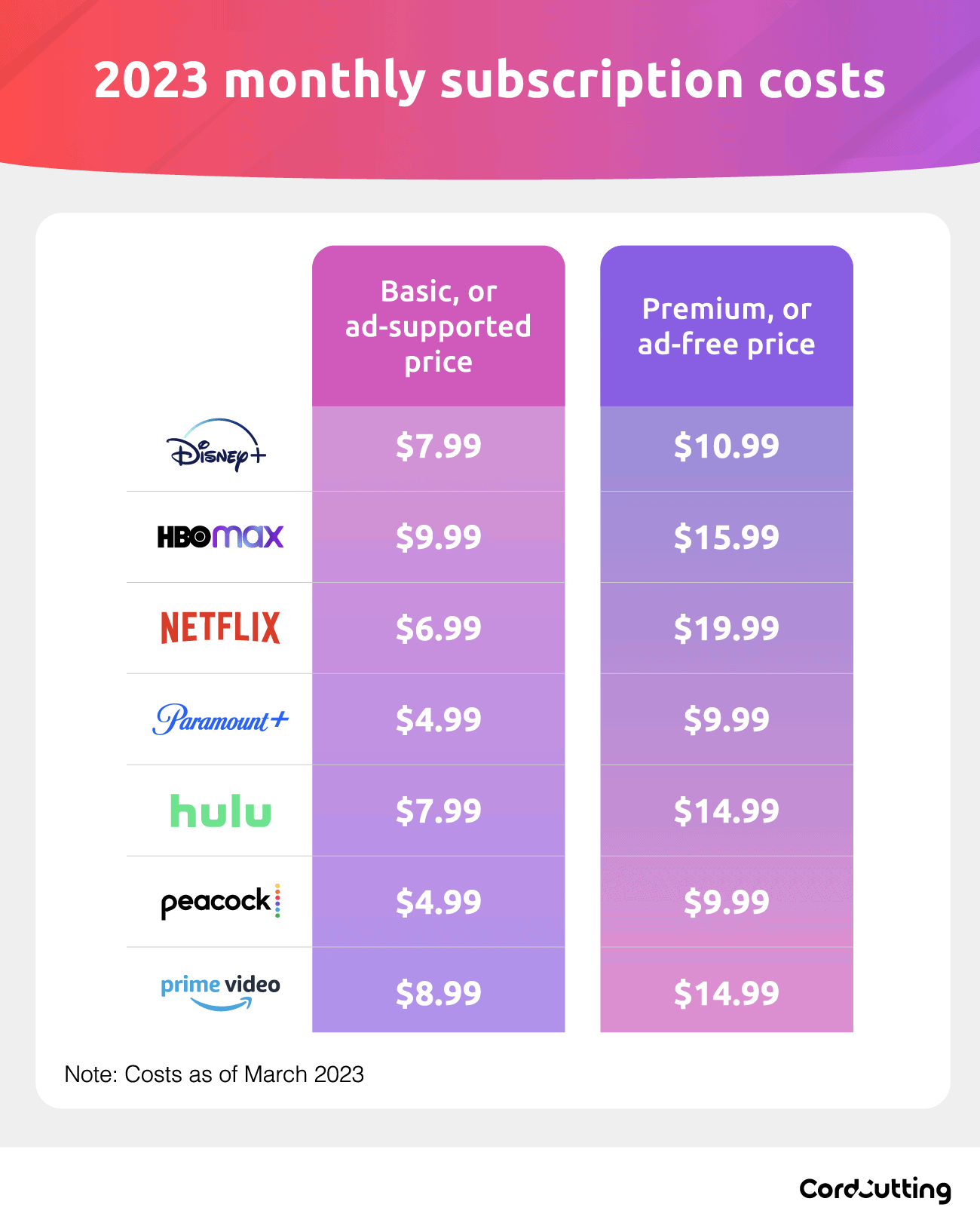 Some platforms now offer cheaper plans supported by ads, which may benefit subscribers concerned about costs, but that approach has yet to pay off for Netflix. However, according to some experts, the tide could start to turn soon as companies continually shift their advertising spend.
"For content creators and delivery platforms, there will be a push to create and deliver content that is interactive, shareable, socially engaging, and increasingly free," said Neil Gruninger, founder and president of A Parent Media Company, which owns KidoodleTV.
"We have seen the demand for free content for decades…and now with the recent adoption of advertising video on demand (AVOD) options from the Netflixes and Disneys of the streaming world. We'll see massive growth in the AVOD space with the departure from traditional ad spend strategies," Gruninger explained.
The average American spends $50 monthly for streaming content and many would consider patching the cord to cable if their budgets stretch much farther. Two-thirds of streamers in our study would consider returning to cable TV if the pricing were better. This shows consumers' willingness to shop around for the best prices, and streaming platforms must price competitively  to hold onto their customers.
Content
Three areas of content appear to be particularly attractive for potential subscribers.
Classic TV: Beyond blockbuster shows that captivate popular culture and foment fear of missing out in water cooler chats, streaming platforms can retain audiences by expanding their catalogs of traditional favorites. Study participants repeatedly requested access to vintage series from the early 2000s and even further into the past. This makes sense, given the billion-dollar bidding wars for titles like Seinfeld, Friends, and The Office. Such preferences may also benefit Paramount+ and Peacock, which control classic libraries from CBS and NBC, respectively.
These timeless shows often come with hundreds of eminently rewatchable episodes, meaning that viewers won't just binge and go.
Sports: Live sports are another big draw as the last vestige of linear (live) television. Previously the purview of cable TV alone, streaming services have their eye on obtaining rights to sports content. Paramount+, Peacock, ESPN+, and Amazon carry NFL action, while YouTube TV recently nabbed the league's lucrative Sunday Ticket package. Apple TV+ and Peacock each have partial MLB packages, while European soccer features prominently on Peacock and Paramount+.
One-third of remaining cable/satellite subscribers would cancel their connections if sports were available outside cable. With streaming services expanding into the field and league rights up for grabs, they may soon have justification.
Movies: During the COVID-19 pandemic, several major theatrical films bypassed theaters and went straight to streaming platforms. Cinemas have since reopened, but with several platforms owned by movie studios, synergy has trimmed the timeline for home release. Receiving recent releases as part of a subscription package adds immense value to streaming: one movie ticket saved every month pays for the service alone.
Convenience
Another opinion repeatedly expressed in the survey is a desire for one central collection of programs rather than several smaller platforms. Ironically this describes the fading cable TV approach, which 57 percent of subscribers describe as a bad value: one-third of streamers say they would never consider going back to cable.
Instead, the streaming field may become more manageable for consumers as platforms consider consolidation. Max and Discovery+ will become one service, Disney+ may seize control of Hulu, and Paramount+ is already folding in Showtime. Fewer platforms (and presumably higher prices) may represent the next phase of streaming.
Americans also love the ability to devour shows at their own pace. Nearly three-fourths of all viewers prefer seasons of shows to be released at once rather than weekly. This criteria generally plays to streaming platforms' strengths.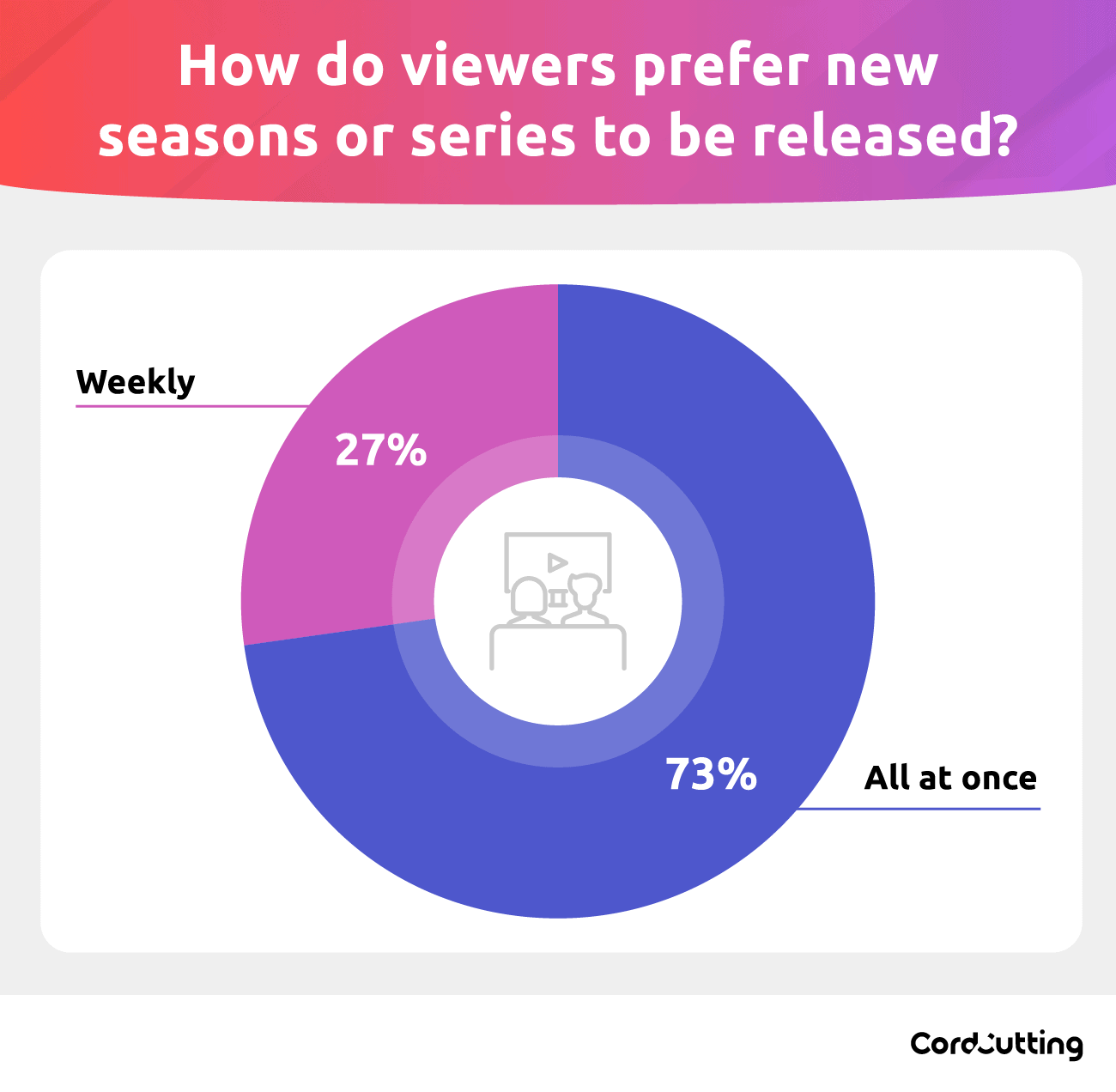 Netflix perfected the binge-release model, though it's not always advantageous to streaming services. Parceling out episodes allows shows to build buzz while gradually encouraging weekly discussions and coverage. Delayed release schedules also make it more difficult for viewers to subscribe for short periods.
According to Paul Jun, this is a highly strategic move. "Since customers are signing up for platforms just for a couple of months, bingeing all of the content, and then moving on to the next provider, streaming platforms like HBOMax only have some of their content available at any given time. That way, you can't binge all of their content at once," said Jun.
Some streaming providers have adopted hybrid approaches – releasing two or three episodes at launch, then doling out the rest weekly. Even Netflix occasionally modifies its signature formula, like releasing Stranger Things season four in two parts.
Conclusion
Once technology fulfilled the promise of streaming video platforms, the industry exploded as an alternative to traditional television. Hedge funds and media giants sunk billions of dollars into great quantities of quality content in fierce battles to secure subscribers. The era became known as Peak TV, and the only direction from a peak is down.
Streaming on demand is wildly popular and has seized media markets along with the zeitgeist. Broadcast is history, cable TV has lost large portions of its audience, and ninety-three percent of Americans rely on streaming services for entertainment. The average adult subscribes to four platforms, yet profits have been hard to come by.
An unending churn causes millions of users to add and drop subscriptions each month. With fickle patrons constantly canceling accounts and moochers sharing passwords to skirt fees, services that took on debt to crank out eye-catching fare aren't finding enough return on investment.
Austerity is now the industry watchword as platforms slash production budgets, crack down on moochers, raise prices, and consolidate brands. Yet the same measures that save money can drive away customers, sparking a revenue problem.
Even titans like Netflix are tightening the belt as latecomers like Paramount+ and Peacock struggle for footing. Apple TV+ is flush with cash and can afford to operate at a loss. Disney+ has security in the family market and content from a galaxy far, far away. HBO has a sparkling reputation and deep content vaults, while Amazon has an unparalleled customer base.
It will be interesting to see how these rivals jockey for position now that the streaming industry is here to stay. The streaming wars may have ended, but the industry is far from achieving peace.
Our Data
We conducted an internet-based poll of 1,001 adults living in the United States about their streaming habits and subscriptions. Participants represented the U.S. population based on their ages, genders, and races.
For our broader analysis of how Americans stream, we used our data to extrapolate population data from the U.S. Census Bureau and internet use data from the Pew Research Center. We calculated the amount of money platforms could gain from moochers by calculating the number of people who use the login credentials of someone outside their household willing to pay if necessary and multiplying that by the current cost for a basic subscription for each platform.