There's a streaming service for everything these days – even news, which was once one of the toughest things to get as a cord cutter. While major news networks like CNN and FOX News are still pay TV exclusives (though not cord-haver exclusives, as both are available through OTT skinny bundles), a new type of news network has sprung up to fill the gap. We're talking about Newsy, the free, short-form video news service that's available on everything from your iPhone to your Roku device. Here's our full review of Newsy.
User Experience
Newsy is very easy to set up. You sign in through Facebook, and you can pick your preferred topics from a short list. From there on out, Newsy will curate your news based on your selected categories. This doesn't give you an enormous amount of power to customize your experience, but it does allow you to block out chunks of news. For instance, I chose not to select "Entertainment" as a category, so my Newsy news feed doesn't include any celebrity or entertainment news.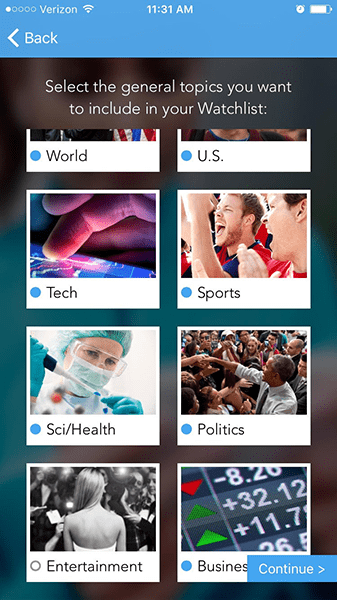 You can add and reorder specific videos to customize your "watchlist," though I didn't find myself using this feature very often. More specific category controls would have been a more useful feature.
We'll talk a bit more about the videos themselves in a minute, but it's worth noting here that they're very short – usually about a minute long. Each video autoplays after the last one finishes, so from a user experience perspective, things are very simple. You just hit play and watch your whole news feed unfold before you, video after video. Just expect the topic to change rapidly, since each video is only a minute or so long.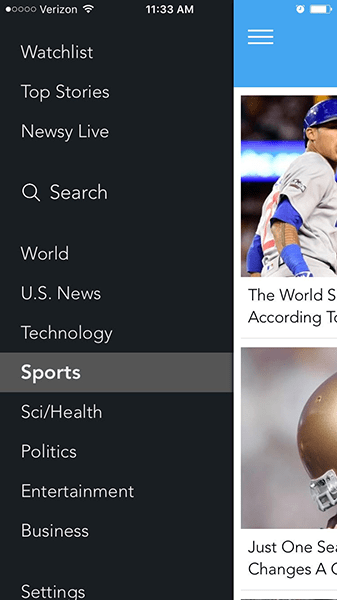 You don't have to rely on your own watchlist. You can also check out videos individually or watch videos in a single category, as shown above.
Content
Newsy is primarily a content provider. There's no syndicated content here – it's all original reports from the Newsy team itself. The videos are very short – about a minute apiece – and cover a given subject in brief. The tone is conversational and explanatory.
The tone is quite casual (that "or anything" cracks me up) and the videos tend to rely on a lot of still images, though they're edited well enough to be fairly engaging.
There's nothing here that rivals the big cable news networks in terms of either production quality or original reporting. But the short, to-the-point videos are a nice way to catch up on major issues, and you won't see any talking heads screaming at each other. The point of the news is to inform, and Newsy does a decent job in that department.
Streaming Quality
I had no problems at all with streaming Newsy on any platform. Loading times ranged from very short to nonexistent. There are occasional ads in between the videos.
Platforms
Newsy has great platform support. You can watch on iOS, Android, Chromecast, Roku, Fire TV, Apple TV, and smart TVs from a variety of manufacturers. On top of that, it's available through skinny bundles and OTT multichannel providers like Sling TV, Pluto TV, and Watchable.
Price
Newsy is ad-supported, so it's totally free. It is available as a channel on paid services like Sling TV, but there are plenty of other (free) ways to get it.
Verdict
Newsy is less a streaming service than it is a standalone streaming channel. It's an original content creator, and it's a pretty good one. Newsy is not going to be breaking major stories or pushing the boundaries of journalism, but it represents an easy and effective way to stay informed in a fast-moving world. Its customization features didn't blow me away, but its platform support is great and it's easy to access it on a variety of platforms and services.
If I subscribed to Sling TV, I don't think I'd choose Newsy over CNN too often. But as a standalone app on my Roku, Newsy provides a nice way to make sure I'm caught up on the latest news stories. It's the perfect thing to put on while you do the ironing or when you're taking a quick break from work. It's free and useful, and it's worth checking out.