We posted our first CBS All Access review back in the early days of the service. We were relatively kind to the fledgling service, which offered a large on-demand catalog as well as live streaming in certain regions. CBS All Access has had plenty of time since then to fix the concerns we did have, including excessive commercials and a relatively high price point. Now we're back with another CBS All Access review. Has anything changed?
CBS All Access Review
User experience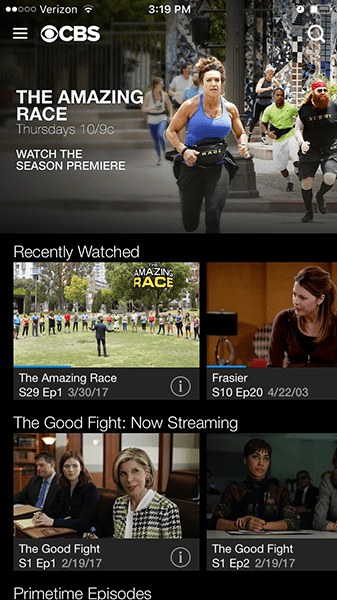 The CBS All Access user experience was pretty competent on all of the apps I tried. The apps sort the content into two basic sections – live TV and on-demand content. The on-demand content is further sorted into helpful sub-categories like "prime time," so finding the right show for you is pretty simple.
The app is good at getting you watching right away – the web app will even start playing something while you choose. The video controls are pretty easy, though I was not able to pause live TV in my trials.
Content
The primary appeal of CBS All Access is the live stream of CBS that is available to many – but not all – subscribers. If you live in a participating region, you'll be able to watch CBS live online through CBS All Access. Here is a list of the markets where that's possible.
One major improvement since our first CBS All Access review has been the inclusion of NFL on CBS. NFL games were blacked out on the live stream when we reviewed the service last fall, but that changed this past December. That's huge news for NFL fans.
The on-demand content here is quite robust, with over 8,500 episodes of CBS network shows available. Unfortunately, you'll have to watch commercials at various points during your show unless you're willing to upgrade to the $9.99/month commercial-free plan – which will remove ads from the on-demand content, but not from live TV.
As for the shows themselves, you know the drill: CBS has hits like The Big Bang Theory and NCIS. You'll also be able to watch episodes from older shows like The Twilight Zone.
Streaming quality
Streaming quality was decent on CBS All Access, but this won't be the most praise-filled section of our CBS All Access review. I found video quality dipped at times, and when I used a mobile device without Wi-Fi, I had some significant troubles and even had my video time out on me. That may have had to do with my network (Verizon) and the service I was getting at the time, but other apps tended to do better than CBS All Access in this situation.
Generally, though, the streaming quality was pretty acceptable. It didn't blow me away, but the video stayed in HD for the overwhelming majority of the time and was generally pretty smooth.
What devices can you watch CBS All Access on?
Device support is a strong suit for CBS All Access. You'll be able to watch on Apple TV, Fire TV, Roku, iOS, and Android devices, plus the PS4, Xbox One, and on your computer via the in-browser app. Chromecast is also supported.
How much does CBS All Access cost?
CBS All Access will set you back $5.99/month for the standard plan, which includes commercials in on-demand content. Since our first CBS All Access review, CBS has introduced a new commercial-free plan for $9.99/month. As I mentioned earlier, however, "commercial-free" only applies to on-demand content – live TV will still have commercials, just as it does with cable or over-the-air.
The really good news is that, like many other streaming services, CBS All Access offers a free trial. While we've outlined a great deal of what works and what doesn't for CBS All Access, it's always a good idea to try a service out yourself before you pay anything. Check out the CBS All Access free trial here.
Verdict: a service for super-fans, but not for everyone
CBS All Access has improved since our first CBS All Access review, but my reaction is still pretty much the same.
The big appeal here, to me, is the access to live CBS streams. But $5.99/month is a little steep for just one channel – for $20 or $30, you could sign up for Sling TV or DIRECTV NOW and get all four major networks and a bunch of other channels as well. And that's to say nothing of the overpriced $9.99/month commercial-free option.
CBS All Access is a quality service, but for the price tag to be worth it, I think you'd need to check a few boxes: you'd need to be a die-hard CBS fan (and not care much about other channels); you'd need to be in one of the markets that gets a live CBS stream as part of CBS All Access; and you'd need to not have a better option for getting CBS, like over-the-air broadcasts.
If all that is true of you, I wholeheartedly recommend CBS All Access. But if one of those things isn't true of your situation, you may want to consider a skinny bundle or an over-the-air antenna.
Please like us on Facebook to keep up to date on what's new in the world of cord cutting: