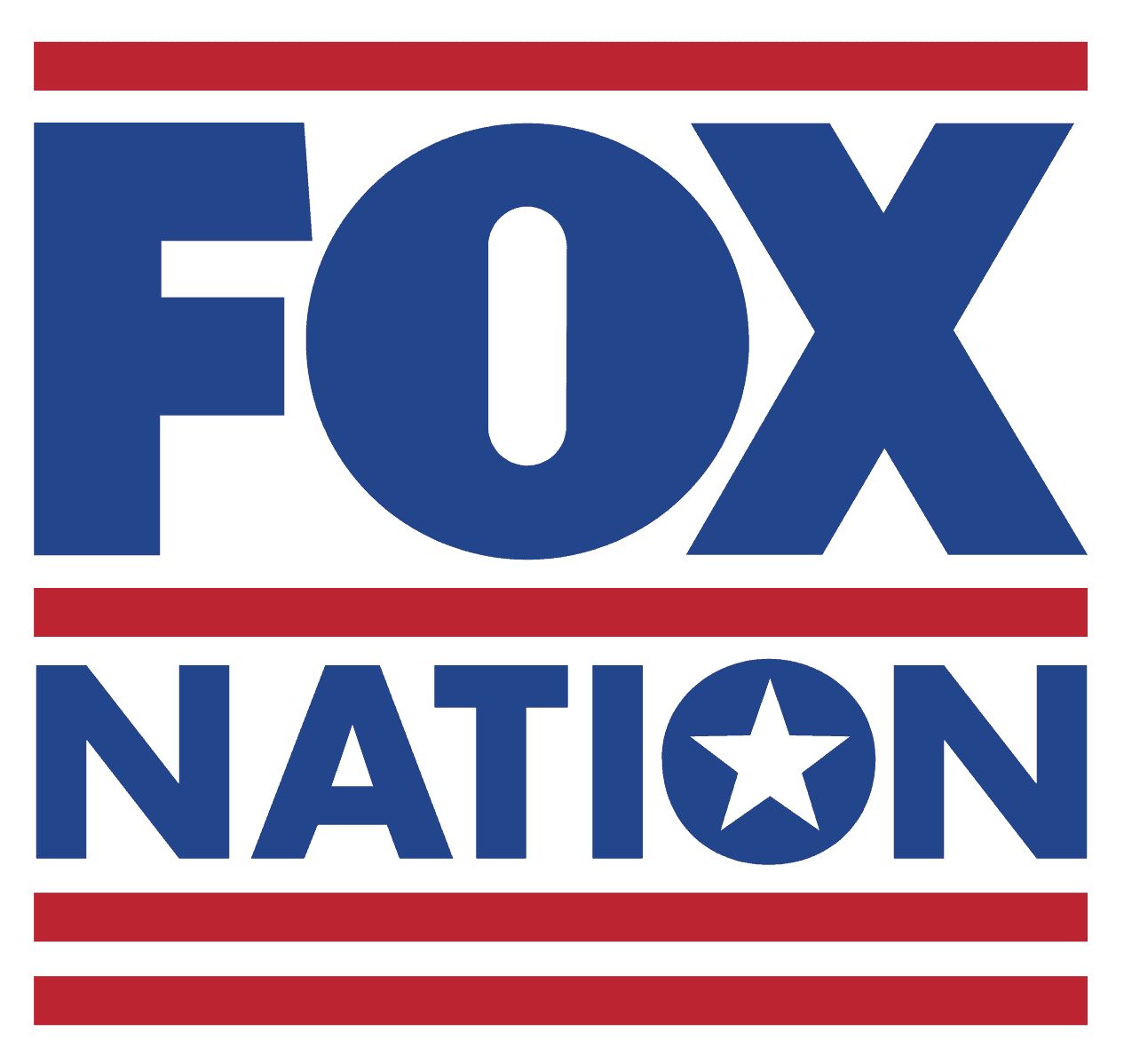 Original content and TV clips from Fox News' biggest stars
If you're a fan of Fox News, then you've probably heard of the streaming service Fox Nation. But what is Fox Nation, and how is it different from the Fox News cable channel? How much does Fox Nation cost, and why should you subscribe? We're here with our Fox Nation guide to answer all of these questions and more.
What Can I Watch on Fox Nation? Does Fox Nation Have a Fox News Live Stream?
Fox Nation can be a bit confusing. The first thing we want to ask about it is this: Does Fox Nation include a Fox News livestream?
The short answer to this is no. Fox Nation is not just a streaming version of Fox News, and it does not include a live stream of the Fox News cable channel. To watch the Fox News TV channel live online or on cable, you'll need to pay a streaming TV provider like fuboTV or a cable provider like Spectrum (of course, Spectrum is an ISP as well).
There is one caveat here, though. Fox Nation's app does let you watch Fox News if you can prove that you already pay for it. If you log in with your TV provider information and show Fox Nation that you're already subscribed to Fox News through Spectrum, Cox, or some other TV provider (including some streaming pay-TV providers, like DIRECTV Stream), then you'll be able to fire up a live stream within the Fox Nation app. This makes it easy to switch back and forth between Fox News content and Fox Nation content. But remember, the Fox News live stream does not actually come with a Fox Nation subscription. You need to be paying for Fox News through some other provider if you want to keep watching the channel.
Fox Nation may not include a live stream of the Fox News cable station, but it does include a whole lot of other Fox-y programming, including plenty of opinion and editorial programming starring the famous faces of Fox News.
As you'd expect, Fox Nation includes mostly conservative voices. But there are a few left-leaning programs available, too.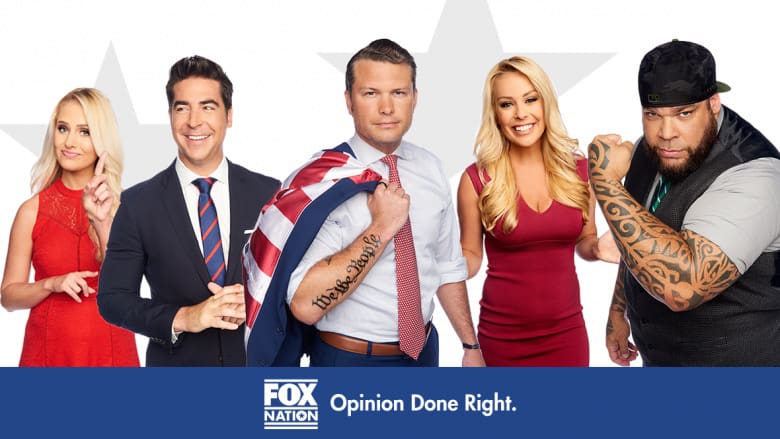 Fox Nation's programming includes a lot of content that isn't necessarily related to breaking news. You'll find documentary series, history programming, a quiz show, and even a Bible study hour.
The news programming that does exist on Fox Nation tends to lean toward the editorial. You won't find much in the way of breaking news. You won't see "hard news" or "straight news" programs like Fox News' programs Fox Report, Fox News Sunday, or America's News HQ.
Instead, you should expect more editorial-style programs. The opinion shows aren't the same ones that you know from Fox News, but they sometimes feature the same stars. For example, you can't watch Hannity on Fox Nation, but Sean Hannity hosts a Fox Nation exclusive called Hannity On Air.
What Devices Can I Use With Fox Nation?
Fox Nation is a streaming app, not a TV channel. That means that you can watch it on your smart TV or streaming stick, or take it on the go with your tablet or smartphone. Fox Nation works on a wide range of different devices.
Apple TV
Chromecast
Fire TV
iOS (iPhone and iPad)
Android mobile
Xbox One
Web browser
This is a pretty solid list! A couple of smart TV brands are missing, though, so make sure that you know what streaming platforms you use before you sign up for Fox Nation.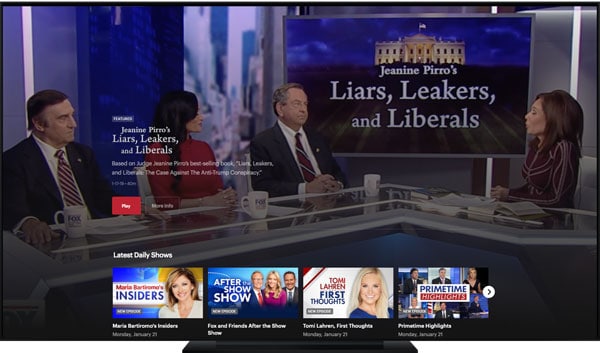 How Much Does Fox Nation Cost?
Like most streaming services, Fox Nation is a subscription service that you can pay for by the month. Fox Nation costs $5.99 per month.
That typical price isn't the only one you'll find, though — sometimes, Fox Nation runs discount deals.
Deals on Fox Nation
Fox Nation is pretty affordable even at its regular price, but that doesn't mean we aren't on the lookout for discounts and deals.
Right now, Fox Nation is allowing new customers to get their first month of Fox Nation for 99 cents. That's five bucks off the usual price. Only new customers can get this deal, and the price goes back to normal from the second month on.
If you're ready to commit to Fox Nation long-term, then you might want to consider the limited-time-only "Patriot" subscription offer. That deal will give you one year of Fox Nation for $74.99. This deal also includes a signed copy of Nancy Grace's new book.
Another limited-time-only offer is the "Silver Patriot" subscription level. This deal gives you two years of Fox Nation. It also includes a signed copy of that same Nancy Grace book.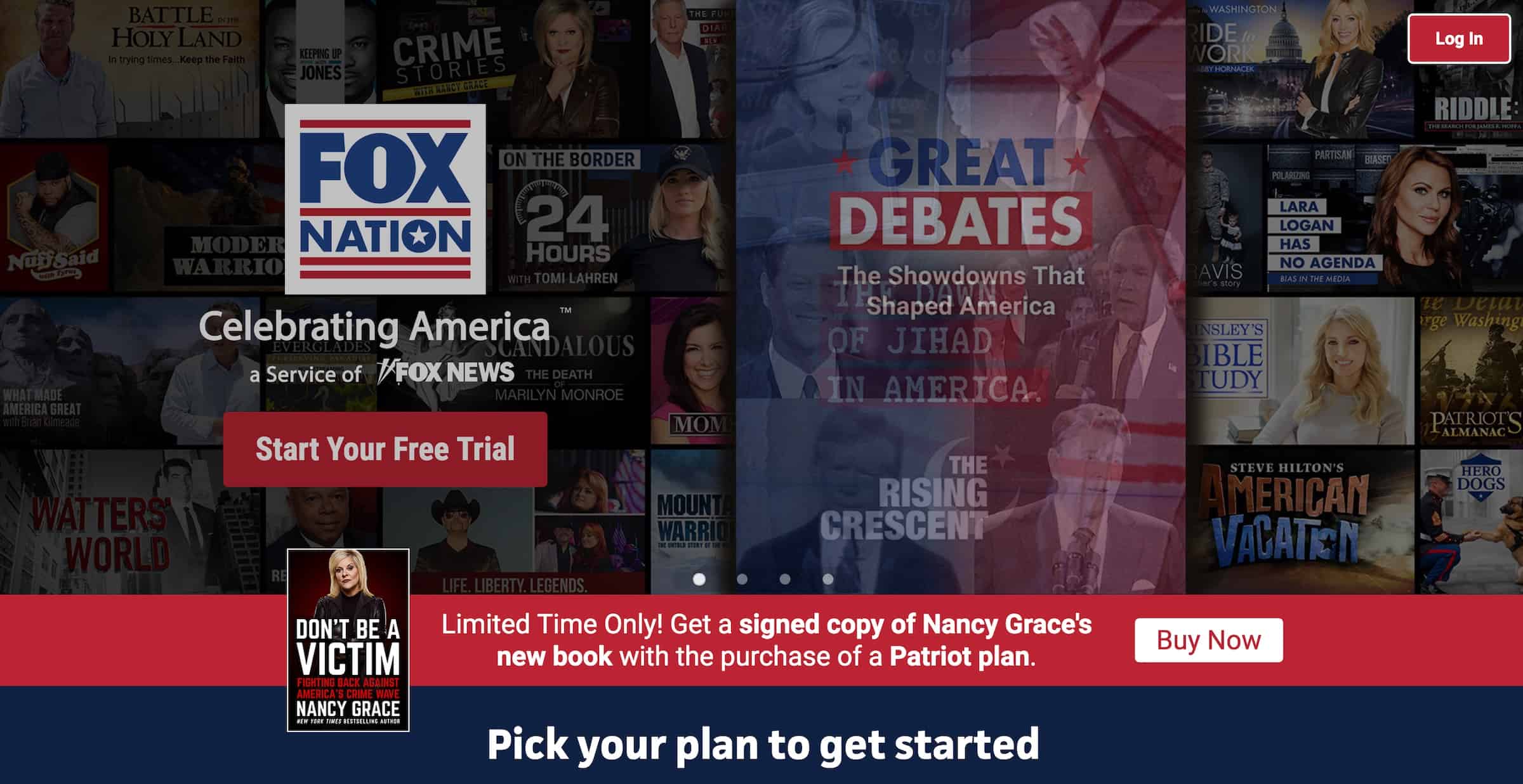 Keep in mind that the regular Fox Nation price of $5.99 per month would end up being about $72 per year.
Fox Nation also offers a week-long free trial.
How to Get a Fox Nation Free Trial
Fox Nation offers a seven-day risk-free free trial program. You can check out the trial for free before you're billed, and you can cancel at any time during the trial week to avoid paying anything at all.
Fox Nation's free trial is available to all new customers who want to sign up. You can't combine Fox Nation's discount deals with its regular free trial program — though some of the deals seem to include their own version of the free trial, so it's worth checking the fine print.
Fox Nation Contracts
Fox Nation lets you pay on a month-to-month basis and won't lock you into a long-term contract. You can cancel whenever you'd like. You won't be billed again after you cancel, and you can keep watching Fox Nation until the end of your current billing period.
Keep in mind that you will not get any kind of refund if you cancel. There will only be a few bucks on the line if you're canceling a month-to-month subscription, but the no-refunds policy could be frustrating if you paid up-front for a year of Fox Nation. Make sure you really want to watch a year's worth of Fox Nation before you pay for a year, because you won't get that money back if you change your mind halfway through the year!
How to Cancel Fox Nation
Fox Nation isn't for everyone, so there may come a time when you want to cancel it. If you're ready to part ways with Fox Nation, just head to the service's website and log in. Head to the top-right corner of your browser window and open the drop-down menu that you find there. Select "Cancel Plan," then follow through with the prompts that Fox Nation will give you. You should have the service canceled in no time.
Read More on Fox Nation, Fox News, and Live TV Streaming
Whether you're a fan of Fox News and Fox Nation or not, be sure to check out the rest of our Cordcutting.com coverage! We're your source for news, reviews, how-tos, and more on everything from Fox News to Fox Sports. If you're looking for other news options, check out our coverage of local news streaming and free over-the-air TV. If you like Fox Nation's history programming and documentary content, check out our coverage of how to watch The History Channel and how to subscribe to CuriosityStream.