There's a lot of great video content on the internet, and not all of it is on paid sites like Netflix and Hulu. Streaming sites like YouTube are packed with free streaming videos, including music, movie previews, and even full shows. Aggregate all of this content in one place, and you'll have a free alternative to Netflix or Hulu – or, at least, that's what Mobdro is hoping. Mobdro is an app that puts free content from all different sources under one roof, making it easy to access videos from all over the internet within just one app. The app comes in free ("freemium") and premium versions. Is either worth your time? Is the premium version worth your money? Here's our full Mobdro review.
Mobdro Review
User experience
I'll talk about Mobdro's app in a moment, but first I want to talk about how you get it, because downloading Mobdro was a bit of a hassle. Mobdro's website says that the app is available only on Android, and not through the app store: the site gives instructions for downloading the APK file, enabling apps from unknown sources, and installing the app manually.
But Mobdro is, in fact, available through the app store – albeit in the form of these many apps, which seem to be unofficial: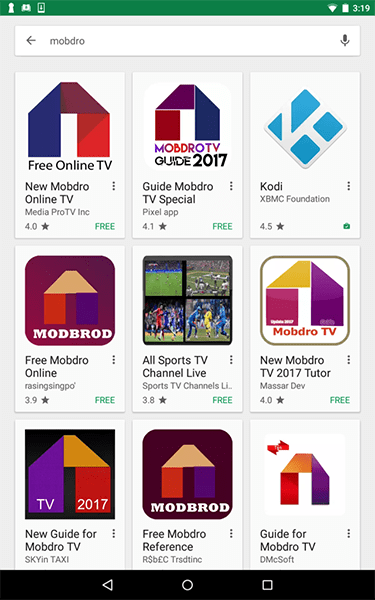 And Mobdro also appears in Apple's iOS app store – in three different versions. One (just "Mobdro") focuses on music videos. Another ("Mobdro TV") crashed each time I tried to open it on my iPhone. A third claims to be the premium version. But none of these apps are claimed by Mobdro's website: only the APK file one is, and that version doesn't seem to be available in any app store. So, while I took a quick look at these other apps, our Mobdro review will focus solely on the "official" app – the one you have to download manually, per the instructions on Mobdro's site.
Assuming you can install and open the app, Mobdro has a pretty pleasant user interface. It's fairly elegant and very reminiscent of other free video apps, such as YouTube's. Unfortunately, Chromecast support – a key feature for an app that is going to compete with other free streaming video apps – is available only in the premium version.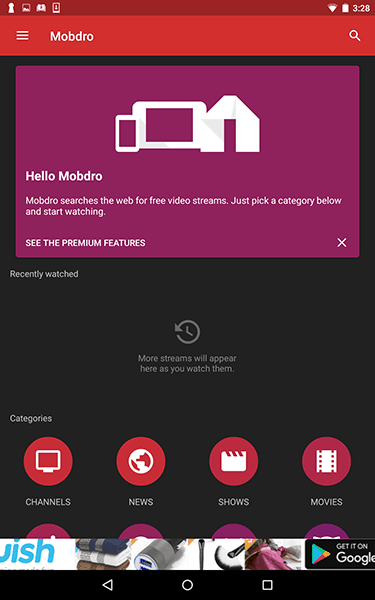 And Mobdro does have a few clever new tools to use with your free content. With a "share" feature, you can watch what your friends are watching (assuming they're sharing, too).
Unfortunately, Mobdro is missing some key features, too. Tap a show you want to watch and you'll be launched right into an episode – there's no episode selection or anything like that. It's one of the things that make Mobdro seem amateurish and sketchy.
Speaking of sketchy, let's talk content.
Content
Mobdro doesn't have content of its own. Instead, it aggregates free video content from around the web. That content generally seems to fall into two categories: content from free sources like nature web cams and YouTube, and content that makes you wonder how it's free.
The first category just isn't that impressive. YouTube is already the clear king of streaming video and, as a result, and Mobdro often feels more like a third-party YouTube client than an aggregator of tons of rich content sources. Or, at least, that's the case in the music video section. Switch to "shows" or "sports," however, and you're in a new category.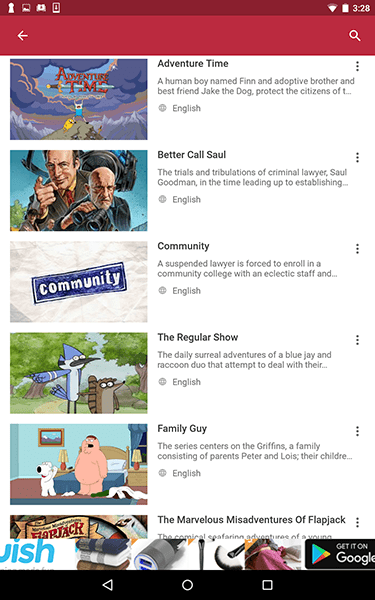 When I tried Mobdro, the shows category included The Office and other popular shows. Click the show and you're pushed right into an episode – no menu, no episode selection, no nothing. The sports section included a live stream of ESPN and other sports channels. That's great, but make no mistake: there's no legal way to get a free live stream of ESPN. Mobdro is doing something here that's not quite on the level.
Streaming quality
I streamed Mobdro on an Android tablet using Wi-Fi. My stream was consistently choppy and laggy, with the audio frequently running ahead of the video. If you're waiting for the nice part of our Mobdro review, keep waiting.
How much is Mobdro?
Mobdro is free for its "freemium" version, but a few perks – including an ad-free experience – are available when you upgrade to the premium version. Mobdro's premium version costs €2.99/year (yep, the price is in Euros).
Platform support
As mentioned up in the user experience section, Mobdro's platform support is a mess. Mobdro's website says that it's only available on Android, but there are no fewer than three Mobdro apps in Apple's iOS app store, and they all bear Mobdro's logo and branding. And on Android, Mobdro's "real" app is available only via APK download – yet the Android apps store if full of "Mobdro" apps, also complete with the service's branding.
The verdict
Here's the short version of this Mobdro review: steer clear.
Look, Mobdro isn't the first app to try to group a bunch of free content sources into one app. This is why we have media centers like Kodi and even Roku. Apple's new TV app does this, too. But those services also include paid services in their interface, and they offer more in terms of content discovery.
Mobdro strikes me as a start-up idea in search of an audience. It takes a very real resource – free video content on the internet – and packages it in an app that looks pretty slick. But is there an audience that consumes this much free video content and is also looking for a new, more convenient way to get it? I'm not so sure. And Mobdro doesn't seem so sure, either, because they've sneakily supplemented the free content with the sort of pirated content that once plagued Kodi add-ons.
(Kodi, by the way, has cracked down on those add-ons and is no longer hiding behind its claim to own no content or the fact that it is open source. Mobdro seems to be using this outdated strategy to protect themselves while selling a premium version of their product. This strikes me as a bad idea.)
If you want great content, you pay for it – you turn to Netflix or Hulu or a skinny bundle like DIRECTV NOW. As for the rest – those free videos – most of us will turn to YouTube or browse absentmindedly on a web browser. Mobdro gives its users some tools for organizing and discovering free content, but to the extent that it stays within the law, it strikes me as an unnecessary and sometimes inelegant solution to a problem that nobody is having.